Rain sensor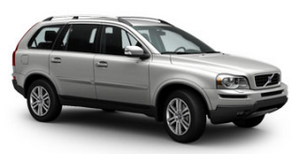 The rain sensor automatically regulates wiper speed according to the amount of water on the windshield.
The sensitivity of the sensor can be adjusted by twisting ring (1) up (the wipers will sweep the windshield more frequently) or down (the wipers will sweep the windshield less frequently).
Activating the rain sensor:
1. Turn the ignition key to at least position I and put the windshield wiper lever in position 0.
2. Press button (2).
> A light in the button will light up to indicate that the rain sensor is active.
Deactivating the rain sensor:
• Press button (2).
or
• Move the windshield wiper lever down to another position. Moving the lever up will not deactivate the rain sensor. Doing so will cause the wipers to sweep the windshield until the lever is released, at which time the wipers return to rain sensor mode.
The rain sensor is also deactivated when the key is removed from the ignition.
CAUTION
The rain sensor should be deactivated when washing the vehicle in an automatic car wash, etc. If the rain sensor function is left on, the wipers will start inadvertently in the car wash and could be damaged.
See also:
Automatic locking
When the vehicle starts to move, the doors and tailgate can be locked automatically. This feature can be turned on or off by pressing MY CAR and going to Car settings Lock settings Aut ...
2011 Volvo C30 Review
I really enjoyed the 2011 Volvo C30. It's fun to drive, has an excellent interior and it looks great after its recent redesign. Now, if you're the sort of person who has to have a reason for every ...
Lower cross member
The front structure has been supplemented by a lower cross member that adapts the front to the height of a normal-sized passenger car. This enables the other car's deformation zones to function as ...