Tailgate wiper/washer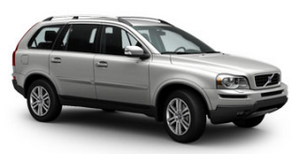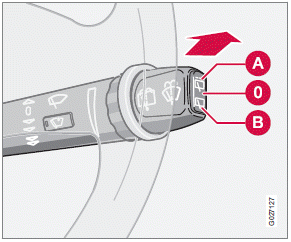 A section of the switch
O Neutral position: The wiper is switched off
B Normal (continuous) wiping: Press the lower section of the switch
Move the lever forward to start the tailgate washer. After washing the rear window, the wiper will make several additional sweeps.
Tailgate wiper and reverse gear
If the front wipers are on and the transmission is put into reverse gear, the tailgate wiper will go into intermittent wiping function1.
If the tailgate wiper is already in normal wiping function, the normal wiping function will continue.
See also:
Adjusting
1. Press the L button for the left door mirror or the R button for the right door mirror. The light in the button comes on. 2. Adjust the position with the joystick in the center. 3. Press the ...
Brake lights and taillights
The brake lights and taillights are replaced from inside the cargo area. NOTE Before starting to replace a bulb, see page 322. 1. Open the panel. 2. Remove the bulb holder by turning it coun ...
About this manual
Before you operate your vehicle for the first time, please familiarize yourself with the information found in the chapters "Your Driving Environment" and "During Your Trip.&quo ...