2005 Volvo S40 Review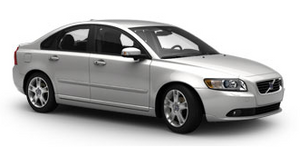 Volvo's compact S40 sedan looks great and has a nicely appointed interior. The fact that it's available with a turbocharged engine and all-wheel drive only heightens its appeal.
The S40 has two five-cylinder engine choices. One is a 2.4-liter with 168 horsepower, and the other is the turbocharged 2.5-liter with 218 horsepower. Prices start at $23,260. The turbo is $26,060 and the turbo with all-wheel drive is $27,710. All models have a $685 delivery fee.
The test car was a turbocharged, all-wheel-drive model equipped with a $1,850 package of popular options that included a power sunroof, power driver's seat, six-CD player, 17-inch wheels and audio controls on the steering wheel.
The turbocharged S40 is a lively, if somewhat expensive, small sedan. Its chassis platform is shared with the 2005 European Ford Focus. Ford owns Volvo.
With short front and rear overhangs, standard 16-inch wheels and a relatively tall roofline, the S40 has a fairly spacious interior given that the wheelbase is only 103.9 inches. Passengers have plenty of legroom because they sit up straight. The upright seating position also makes it easier to get in and out.
The turbocharged five-cylinder is pretty athletic. It is not the quickest off the mark, but it gathers speed quickly. The six-speed manual gearbox has a tight shift linkage.
The electronically controlled Haldex all-wheel-drive unit allows the S40 to operate primarily in front-wheel mode, but when the front wheels slip, power is instantly transferred to the rear.
Driving the S40 in rainy weather showed how efficient all-wheel-drive mode can be. If I accelerated quickly away from a turn, I could feel the front wheels spin about half a revolution before power was directed to the back wheels.
The S40's instrument panel has a unique center section that looks like something from a concept car. It is only a couple of inches thick, and the space behind it is open. Knobs for heating, cooling and audio are contained in the thinnest section.
The headrests of the S40's seats are angled forward to keep them close to the occupants' heads. This is great whiplash protection, but they pushed my head forward slightly. The test car's upholstery material reminded me of a diver's wet suit, and it should be impervious to stains and spills.
Volvo has long been a leader in safety. To that end, the S40 has four grades of steel to provide maximum safety for the car's occupants. Side-impact protection is enhanced by cross members that form a three-way attachment between the leading edge of the A-pillar and the base of the B-pillar, enhancing side-impact protection. The back doors have similar cross members as well.
Price
The base price of the test car was $27,710. The Select Package added $1,850, and freight was $685. The sticker price was $30,245.
Warranty
Four years or 50,000 miles.
Engine: 2.5-liter, 218-hp 5-cyl.
Transmission: Six-speed
All-wheel drive
Wheelbase: 103.9 inches
Curb weight: 3,399 lbs.
Base price: $27,710
As driven: $30,245
Mpg rating: 19 city, 27 hwy.
At A Glance
Point: The S40 is a solid and roomy compact sedan. The optional turbocharged engine with all-wheel drive gives it a sporty personality and good all-weather traction. Getting in and out is easy because of the upright seating position. Backseat legroom is good, as well.
Counterpoint: While the base car is reasonably priced, the all-wheel-drive turbo is fairly pricey.
See also:
Disconnecting an external device
The external device is automatically disconnected from the audio system if it is moved out of range ...
Automatic connection
When the hands-free system is active and the most recently connected cell phone is within range, it is connected automatically. If this phone is not within range, the hands-free system will at ...
Volvo's recommendations
Why does Volvo believe that no child should sit in the front seat of a car? It's quite simple really. A front airbag is a very powerful device designed, by law, to help protect an adult. Because ...