Scan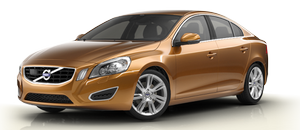 The function automatically searches the current waveband for radio stations. When a station is found, it is played for several seconds before scanning is resumed. While the station is playing it can be stored as a preset in the usual way (see "Manually storing preset stations").
To start scanning in AM/FM mode, go to FM menu Scan or in AM menu Scan.
Stop station scanning by pressing EXIT.

NOTE
Storing a station interrupts the SCAN function.
See also:
Continued
This symbol can be found at the lower right corner of an odd-numbered (right-hand) page to indicate that the current topic is continued on the following page. ...
Safety
Volvos are renowned for their safety. This commitment is as old as the company itself. As Assar Gabrielsson, one of the founders of Volvo, declared: 'Cars are driven by people. The guiding principle ...
The Inside
Like the exterior, the C30's cabin is highlighted by a design element, specifically a flowing center control panel. It's similar to the one in the S40 and V50, and the thin panel is partially sepa ...