Polishing and waxing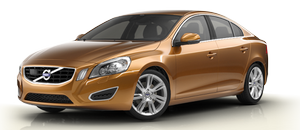 Normally, polishing is not required during the first year after delivery, however, waxing may be beneficial.
Before applying polish or wax the vehicle must be washed and dried. Tar spots can be removed with kerosene or tar remover. Difficult spots may require a fine rubbing compound.
After polishing use liquid or paste wax.
Several commercially available products contain both polish and wax.
Waxing alone does not substitute for polishing a dull surface.
A wide range of polymer-based waxes can be purchased today. These waxes are easy to use and produce a long-lasting, highgloss finish that protects the bodywork against oxidation, road dirt and fading.
Do not polish or wax your vehicle in direct sunlight (the surface of the vehicle should not be warmer than 113 °F (45 °C).
CAUTION
Volvo does not recommend the use of longlife or durable paint protection coatings, some of which may claim to prevent pitting, fading, oxidation, etc. These coatings have not been tested by Volvo for compatibility with your vehicle's clear coat. Some of them may cause the clear coat to soften, crack, or cloud. Damage caused by application of paint protection coatings may not be covered under your vehicle's paint warranty.
See also:
Cleaning the BLIS camera lenses
In order to function optimally, the BLIS camera lenses must be kept clean. They can be wiped clean with a soft cloth or wet sponge. CAUTION Clean the lenses carefully to avoid scratching. The ...
More information about registeringand connecting cell phones
A maximum of 5 cell phones can be registered in the hands-free system. Registration only needs to be done once for each phone. After registration, the cell phones can then be found in the list of ...
Opening the trunk manually
The trunk is held closed by an electronic locking mechanism. To open: 1. Press lightly on the rubberized plate under the handle to release the lock. 2. Lift the handle to open the trunk lid. CA ...