Headlight housing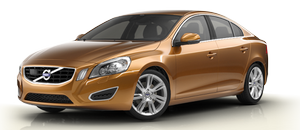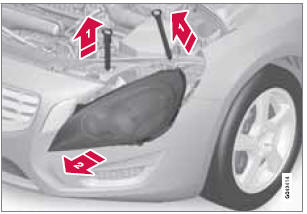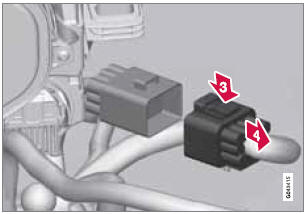 The entire headlight housing must be lifted out when replacing all front bulbs.
CAUTION
Never touch the glass of bulbs with your fingers. Grease and oils from your fingers vaporize in the heat and will leave a deposit on the reflector, which will damage it.

NOTE
Always switch off the ignition before starting to replace a bulb.
The optional Active Bending Light bulbs contain trace amounts of mercury. These bulbs should always be disposed of by a trained and qualified Volvo service technician.
Removing the headlight housing
1. Switch off the ignition by briefly pressing the START/STOP ENGINE button.
2. Remove the remote key from the ignition slot.
3. (Upper illustration under "Headlight housing")
1 - Withdraw the headlight housing's locking pins.
2 - Remove the headlight housing by alternatively pulling the front and rear edges until it can be lifted out.
CAUTION
When disconnecting the connector, pull on the connector itself and not on the wiring.
4. (Lower illustration under "Headlight housing")
3 - Unplug the wiring connector by holding down the clip with your thumb.
4 - Pull out the connector with the other hand.
5. Lift out the housing and place it on a soft surface to avoid scratching the lens.
6. Replace the defective bulb(s).
Reinserting the headlight housing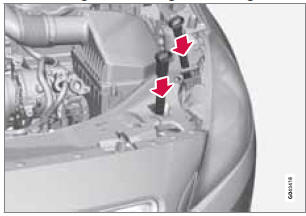 1. Plug in the connector until it clicks into place.
2. Reinstall the headlight housing and locking pins. The short locking pin should be closest to the grille. Check that they are correctly inserted. The headlight housing must be properly inserted and secured in place before the lighting is switched on or the remote key is inserted into the ignition slot.
3. Check that the lights function properly.
See also:
Overview
1 AC – (ON/OFF) 2 Recirculation/Multifilter with sensor 3 Recirculation 4 AUTO 5 Air distribution 6 Passenger compartment temperature sensor 7 Defroster windshield and side windows 8 Rear win ...
Under the Hood
A light-pressure turbocharged 2.5-liter inline-five-cylinder engine delivers 208 horsepower to a five-speed-automatic transmission. Volvo's bi-turbo 2.9-liter inline-six-cylinder engine in the T6 ...
Contact shortcuts
A quick way of searching the phone book for contacts in normal view is to turn TUNE clockwise to access the phone book and then counter- clockwise to select a contact from the list. Press OK/MENU ...