Owner maintenance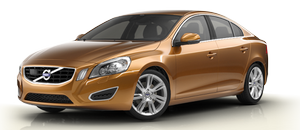 Periodic maintenance requirements and intervals are described in your vehicle's Warranty and Service Records Information booklet.
The following points can be carried out between the normally scheduled maintenance services.
Each time the car is refueled:
• Check the engine oil level. • Clean the windshield, windshield wipers, headlights, and taillights.
Monthly:
Check cold tire pressure in all tires. Inspect the tires for wear.
Check that engine coolant and other fluid levels are between the indicated "min" and "max" markings.
Clean interior glass surfaces with a glass cleaner and soft paper towels.
Wipe driver information displays with a soft cloth.
Visually inspect battery terminals for corrosion. Corrosion may indicate a loose terminal connector, or a battery near the end of its useful service life. Consult your Volvo retailer for additional information.
As needed:
Wash the car, including the undercarriage, to reduce wear that can be caused by a buildup of dirt, and corrosion that can be caused by salt residues.
Clean leaves and twigs from air intake vents at the base of the windshield, and from other places where they may collect.

NOTE
Complete service information for qualified technicians is available online for purchase or subscription at www.volvotechinfo.com.
See also:
Climate system maintenance
Special tools and equipment are required to maintain and carry out repairs on the climate system. Work of this type should only be done by a trained and qualified Volvo service technician. ...
Glove compartment
The owner's manual and maps can be kept here. There are also holders for pens and fuel cards. The glove compartment can be locked manually with the key blade, see page 69. ...
Power brakes function only when the engine is running
The power brakes utilize vacuum pressure which is only created when the engine is running. Never let the vehicle roll to a stop with the engine switched off. If the power brakes are not working, ...