Navigating and playing tracks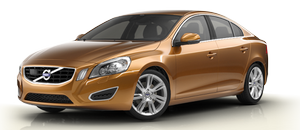 Turn TUNE to access the device's playlist and to navigate in this list. Press OK/MENU to either select a sub-folder or confirm a choice and begin playback. Press EXIT to cancel and exit the playlist or to go back in the folder structure. Press and hold EXIT to go to the highest level in the playlist.
The

buttons on the center console or steering wheel keypad can also be used to change tracks/files.
The following symbols are used in the display:
- audio files
- video files
- folders
When a file has been played, the player will continue to play the rest of the files (of the same type) in the current folder. When all of the files in the folder have been played, the player will automatically go to the next folder1 (unless Repeat folder is activated) and play the files in it.
The system automatically detects and changes settings if a device containing only audio or only video files is connected to the USB socket and will play these files. However, the system will not change settings if the device contains both audio and video files and will continue to play the current type of file.
See also:
Selecting a channel
There are three ways of tuning in a channel: Using the left and right arrow keys to go to the next channel. Skipped channels (see page 220) will be excluded. By turning the TUNE control and s ...
Air distribution
1 Manual air distribution—defroster 2 Manual air distribution—dashboard air vents 3 Manual air distribution—floor The figure consists of three buttons. When a button is pressed, the correspondi ...
Audyssey MultEQ
The Audyssey MultEQ system has been used to optimize sound quality to help ensure a world-class listening experience. ...