Navigating and playing tracks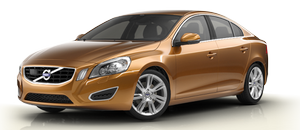 Turn TUNE to access the device's playlist and to navigate in this list. Press OK/MENU to either select a sub-folder or confirm a choice and begin playback. Press EXIT to cancel and exit the playlist or to go back in the folder structure. Press and hold EXIT to go to the highest level in the playlist.
The

buttons on the center console or steering wheel keypad can also be used to change tracks/files.
The following symbols are used in the display:
- audio files
- video files
- folders
When a file has been played, the player will continue to play the rest of the files (of the same type) in the current folder. When all of the files in the folder have been played, the player will automatically go to the next folder1 (unless Repeat folder is activated) and play the files in it.
The system automatically detects and changes settings if a device containing only audio or only video files is connected to the USB socket and will play these files. However, the system will not change settings if the device contains both audio and video files and will continue to play the current type of file.
See also:
Selecting a source for the rear screens from the front center control panel
An audio/video source for the rear screen(s) can be selected from the front center control panel. The same source can be selected for both rear screens or different sources can be selected for ...
Function
The driver sees what is behind the vehicle and if a person or animal should suddenly appear from the side. PAC is mounted on the rear of the trunk lid, near the opening handle. The camera has bu ...
Driver distraction
A driver has a responsibility to do everything possible to ensure his or her own safety and the safety of passengers in the vehicle and others sharing the roadway. Avoiding distractions is part of ...