Using the information button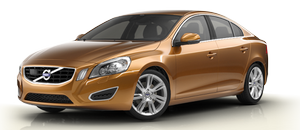 1. Press the information button

2. All of the indicator lights will flash sequentially for approximately 7 seconds to indicate that the PCC is receiving information from the vehicle. If any of the buttons are pressed during this 7-second period, transmission of information to the PCC will be interrupted.

NOTE
If none of the indicator lights flash when the information button has been pressed several times from different places in relation to the vehicle, contact an authorized Volvo service technician.
The indicator lights provide information according to the illustration: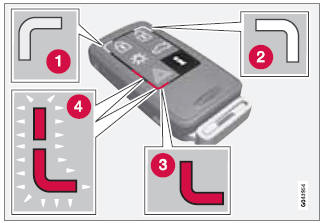 1 - Steady green light: the vehicle is correctly locked.
2 - Steady yellow light: the vehicle is not locked.
3 - Steady red light: the alarm has been triggered.
4 - Both red lights flash alternatively: the alarm was triggered less than 5 minutes ago.
See also:
Start
Ignition switch with remote key inserted ( see page 86 for more information on ignition modes) WARNING Before starting the engine: Fasten the seat belt. Check that the seat, steering ...
Fog on the inside of the windows
The defroster function should be used to remove fog or mist from the inside of the windows. Keeping the windows clean with a commercially available window washing spray will also help prevent f ...
Blind Spot Information System
1 BLIS camera 2 Indicator light 3 BLIS symbol The Blind Spot Information System (BLIS) is an information system that indicates the presence of another vehicle moving in the same direction as y ...