Installation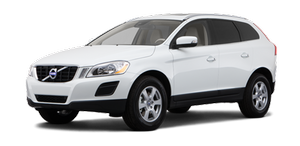 1. Lower the battery into the battery box.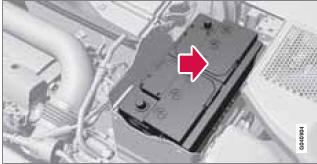 2. Move the battery inward and to the side until it reaches the rear edge of the box.
3. Tighten the clamp that secures the battery.
4. Connect the ventilation hose.
> Be sure that it is correctly connected to the battery and the vent in the vehicle's body.
5. Connect the red positive cable.
6. Connect the black negative cable.
7. Press in the rear cover. (See Removal).
8. Reinstall the molding. (See Removal).
9. Reinstall the front cover and secure it with the clips. (See Removal).
See also:
License plate lighting
1. Remove the screws with a screwdriver. 2. Carefully detach the entire bulb housing and pull it out. 3. Replace the bulb. 4. Reinsert the entire bulb housing and tighten the screws. ...
Disc eject
For reasons of traffic safety, an ejected disc must be removed within 12 seconds or it will be automatically drawn back into the slot. ...
Vehicle Overview
Long known for safe, solid sedans and wagons, Volvo joined the sport utility vehicle fray in 2003 with its car-based XC90. The Swedish automaker promised the ride and handling of a passenger car. ...