Installation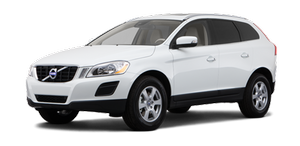 1. Lower the battery into the battery box.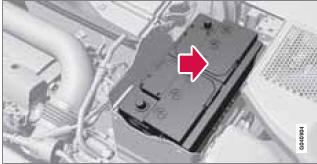 2. Move the battery inward and to the side until it reaches the rear edge of the box.
3. Tighten the clamp that secures the battery.
4. Connect the ventilation hose.
> Be sure that it is correctly connected to the battery and the vent in the vehicle's body.
5. Connect the red positive cable.
6. Connect the black negative cable.
7. Press in the rear cover. (See Removal).
8. Reinstall the molding. (See Removal).
9. Reinstall the front cover and secure it with the clips. (See Removal).
See also:
Load anchoring eyelets
The load anchoring eyelets on both sides of the vehicle are used to fasten straps, etc., to help anchor items in the trunk. WARNING Cover sharp edges on long loads to help prevent injury ...
Active chassis (Four C)
Active chassis, Four-C (Continuously Controlled Chassis Concept), regulates the characteristics of the shock absorbers so that the car's driving characteristics can be adjusted. There are three ...
Tire sealing system–overview
1 Speed limit sticker 2 On/Off switch 3 Electrical wire 4 Bottle holder (orange cover) 5 Protective hose cover 6 Air release knob 7 Hose 8 Bottle with sealing compound 9 Air pressure gauge ...