Tire sealing system–overview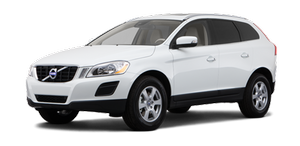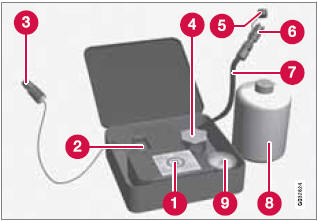 1 Speed limit sticker
2 On/Off switch
3 Electrical wire
4 Bottle holder (orange cover)
5 Protective hose cover
6 Air release knob
7 Hose
8 Bottle with sealing compound
9 Air pressure gauge
WARNING
Please keep the following points in mind when using the tire sealing system:
• The sealing compound bottle (no. 8 in the illustration) contains 1.2-Ethanol and natural rubber-latex. These substances are harmful if swallowed.
• The contents of this bottle may cause allergic skin reactions or otherwise be potentially harmful to the skin, the central nervous system, and the eyes.
Precautions:
• Keep out of reach of children.
• Do not ingest the contents.
• Avoid prolonged or repeated contact with the skin.
• Hands should be washed thoroughly after handling.
First aid:
• Skin: Wash affected areas of skin with soap and water. Get medical attention if symptoms occur.
• Eyes: Flush with plenty of water for least 15 minutes, occasionally lifting the upper and lower eyelids. Get medical attention if symptoms occur.
• Inhalation: Move the person to fresh air. If irritation persists, get medical attention.
NOTE
Do not break the seal on the bottle. This occurs automatically when the bottle is screwed into the holder.
See also:
Introduction
Volvo recommends the use of Volvo trailer hitches that are specially designed for the vehicle. NOTE See page 353 for the maximum trailer and tongue weights recommended by Volvo. • Observe the l ...
Power windows
The power windows are controlled by buttons in the arm rests. The ignition switch must be ON1 (ignition key in position I, II or the engine running) for the electrically operated windows to functi ...
Keyless drive
Vehicles equipped with the optional Personal Car Communicator have the keyless drive function, see page 63 for detailed information. ...