Roof loads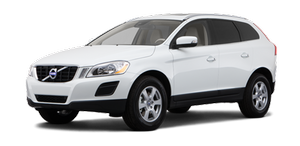 Using load carriers
Load carriers are available as Volvo accessories.
Observe the following points when in use:
Х To avoid damaging your vehicle and to achieve maximum safety when driving, we recommend using the load carriers that Volvo has developed especially for your vehicle.
Х Volvo-approved removable roof racks are designed to carry the maximum allowable roof load for this vehicle: 220 lbs (100 kg).
For non-Volvo roof racks, check the manufacturer's weight limits for the rack.
Х Never exceed the rack manufacturer's weigh limits and never exceed the maximum rated roof load of 220 lbs (100 kg).
Х Avoid single-point loads. Distribute loads evenly.
Х Place heavier cargo at the bottom of the load.
Х Secure the cargo correctly with appropriate tie-down equipment.
Х Check periodically that the load carriers and load are properly secured.
Х Remember that the vehicle's center of gravity and handling change when you carry a load on the roof.
Х The vehicle's wind resistance and fuel consumption will increase with the size of the load.
Х Drive smoothly. Avoid rapid starts, fast cornering and hard braking.
See also:
Checking and adding oil
Location of the filler cap and dipstick Volvo recommends Castrol oil products NOTE Before checking the oil: The car should be parked on a level surface. If the engine is warm, wait f ...
Brake pad inspection
On vehicles equipped with a jack*, the condition of the brake pads can be checked by raising the vehicle (see page 306 for information about using the jack and removing a wheel) and performing ...
2012 Volvo S60 Review
Before test-driving the 2012 Volvo S60, I considered Volvos to be functional cars that included cutting-edge safety features. Put another way, I thought Volvos were dutifully practical family cars ...