Roof loads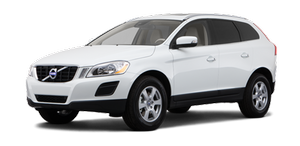 Using load carriers
Load carriers are available as Volvo accessories.
Observe the following points when in use:
Х To avoid damaging your vehicle and to achieve maximum safety when driving, we recommend using the load carriers that Volvo has developed especially for your vehicle.
Х Volvo-approved removable roof racks are designed to carry the maximum allowable roof load for this vehicle: 220 lbs (100 kg).
For non-Volvo roof racks, check the manufacturer's weight limits for the rack.
Х Never exceed the rack manufacturer's weigh limits and never exceed the maximum rated roof load of 220 lbs (100 kg).
Х Avoid single-point loads. Distribute loads evenly.
Х Place heavier cargo at the bottom of the load.
Х Secure the cargo correctly with appropriate tie-down equipment.
Х Check periodically that the load carriers and load are properly secured.
Х Remember that the vehicle's center of gravity and handling change when you carry a load on the roof.
Х The vehicle's wind resistance and fuel consumption will increase with the size of the load.
Х Drive smoothly. Avoid rapid starts, fast cornering and hard braking.
See also:
Using voice commands
The driver initiates a voice command dialogue by pressing the voice control button (see the illustration on page 240). When a dialogue has been initiated, commonly used commands will be shown in th ...
Seat belt use during pregnancy
The seat belt should always be worn during pregnancy. But it is crucial that it be worn in the correct way. The diagonal section should wrap over the shoulder then be routed between the breasts ...
Glossary of tire terminology
The tire suppliers may have additional markings, notes or warnings such as standard load, radial tubeless, etc. Tire information placard: A placard showing the OE (Original Equipment) tire si ...