Introduction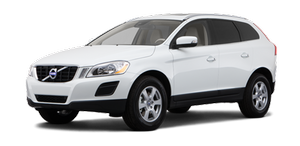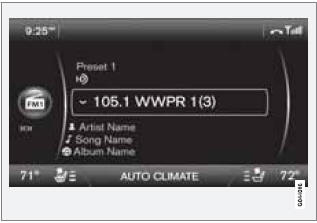 Display when the radio is receiving an HD Radio broadcast
NOTE
HD radio volume may fade in and out at times due to coverage limitations.
HD radio is a brand name registered by the Ibiquity digital corporation1. They are the developer of a broadcasting technology called IBOC or In Band On Channel, which refers to the method of transmitting a digital radio broadcast signal centered on the same frequency as the AM or FM station's present frequency.
The IBOC system is referred to as a "hybrid" since it is both analogue and digital. During hybrid operation, receivers still continue to receive the analogue (non-digital) signal. HD radio receivers incorporate both modes of reception, where the receiver will automatically switch to the analogue signal if the digital signal cannot be decoded or is lost by the receiver.
When you have tuned to an HD Radio station, the

symbol will appear in the audio system display. The symbol is "grayed-out" when HD Radio is in standby mode and white when the radio is actively receiving an HD broadcast.
More information about HD radio and IBOC can be found on Ibiquity's website, www.hdradio.com and www.ibiquity.com.
See also:
Using HomeLink
To operate, simply press and release the programmed HomeLink button. Activation will now occur for the trained device (i.e., garage door opener, gate operator, security system, entry door lock, ho ...
Use of Additives
With the exception of gas line antifreeze during winter months, do not add solvents, thickeners, or other store-bought additives to your vehicle's fuel, cooling, or lubricating systems. Overuse ...
Introduction
Two remote keys or optional Personal Car Communicators (PCC) are provided with your vehicle. They enable you to unlock the doors and tailgate, and also function as ignition keys to start the v ...