Driving dynamics: engine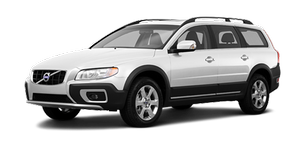 The second-generation, 2.4-litre, five-cylinder, diesel D5 is a cleaner and more advanced version of the engine fitted to the outgoing XC70. It gives superb performance (130mph) allied to fuel economy more typically found on smaller, less capable cars (37.7mpg on the combined cycle).
Volvo's second-generation, 2.4-litre, five-cylinder, common-rail diesel D5 engine is an advanced unit featuring double overhead camshafts and four valves per cylinder for optimised breathing. The D5 unit is substantially revised over the outgoing Volvo XC70's unit and has a new electronically controlled turbocharger, refined multi-throttle injection technology and a more powerful engine management system, among many other changes. It is one of the cleanest and most advanced diesel engines in the world. The improvements have resulted in an entirely new driving experience with considerably higher performance and improved drivability. At the same time, there has been a sharp reduction in emissions. The engine easily exceeds Euro 4 emissions requirements. Particulates are only 0.001g/km compared with the Euro 4 standard of 0.025. A particle filter requiring no servicing is fitted as standard.
The D5 produces 185 PS and a massive 400Nm of torque from 2000-2750rpm. Maximum speed is 130mph in manual form and 0-60mph takes only 8.8 seconds. Yet average fuel economy on the official combined cycle is 37.7mpg for the manual version.
See also:
Turning off (stopping) the alarm
If the alarm is sounding, it can be stopped by pressing the Unlock button on the remote key or by inserting the remote key in the ignition slot. Two short flashes from the car's direction indi ...
Interior design
Scandinavia is famous for its innovative interior designs, and the Volvo S80 epitomises elegant Scandinavian luxury. The interior of the car has a clear focus on exclusivity and comfort. The sof ...
Changing the set speed
After a speed has been set, it can be increased or decreased by using the or buttons. Each time one of these buttons is pressed, the vehicle's speed changes by 5 mph (approximately 8 km/h). ...