Selecting a magnetic zone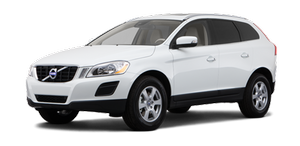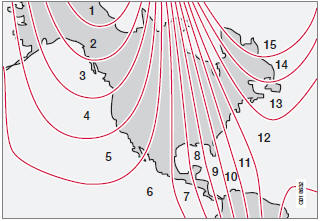 Magnetic zones.
The earth is divided into 15 magnetic zones.
The correct zone must be selected for the compass to work correctly.
1. Put the ignition in mode II.
2. Using a pen or similar object, press and hold the button on the rear side of mirror for at least 3 seconds. The number for the current area will be shown.
3. Press the button repeatedly until the number for the required geographic area (1 – 15) is shown.
4. The display will revert to showing the compass direction after several seconds.
See also:
Severe strain on the brake system
The brakes will be subject to severe strain when driving in mountains or hilly areas, or when towing a trailer. Vehicle speed is usually slower, which means that the cooling of the brakes is less ...
Stage 1: Sealing the hole
1. Open the cover on the tire sealing kit. 2. Peel off the speed limit sticker and affix it to the steering wheel hub where it will be clearly visible to the driver. 3. Ensure that the on/off sw ...
Cordless headphones
1 Switch for selecting channel A (CH.A) or channel B (CH.B) 2 On/Off button 3 Volume 4 On/Off indicator light Two sets of cordless headphones are included with the RSE system. The cordless he ...