IR-reflecting windshield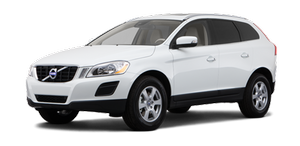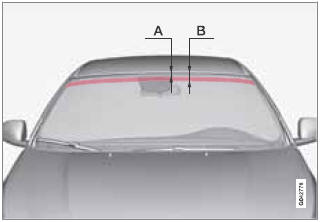 Section of the windshield where the IR-coating is not applied

An optional factory-installed infrared (IR) coating can be applied to the windshield to help protect the cabin from the sun's heat and the fading effect of sunlight on upholstery, panels, etc.
Electronic equipment such as garage door openers, electronic toll tags and similar devices should not be placed on sections of the windshield with the IR coating because this could affect their function and limit their range.
For best performance, place the device on the section of the windshield without the IR coating (see the area marked in the illustration).
See also:
Auto-brake
If a collision is imminent and the driver has not applied the brakes or begun to steer around the vehicle or pedestrian, the auto-brake function is activated without the driver pressing the br ...
Unbuckling the seat belt
To remove the seat belt, press the red section on the seat belt receptacle. Before exiting the vehicle, check that the seat belt retracts fully after being unbuckled. If necessary, guide the belt ...
Folding the backrests in the front seat
The front passenger seat backrest can be folded to a horizontal position to make room for a long load. Fold the backrest as follows: 1. Move the seat as far back as possible. 2. Adjust the backr ...