IR-reflecting windshield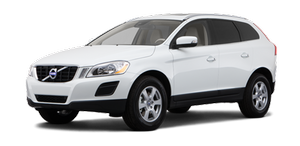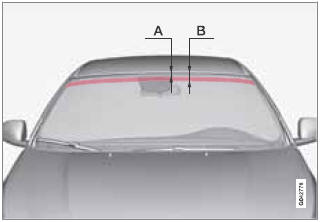 Section of the windshield where the IR-coating is not applied

An optional factory-installed infrared (IR) coating can be applied to the windshield to help protect the cabin from the sun's heat and the fading effect of sunlight on upholstery, panels, etc.
Electronic equipment such as garage door openers, electronic toll tags and similar devices should not be placed on sections of the windshield with the IR coating because this could affect their function and limit their range.
For best performance, place the device on the section of the windshield without the IR coating (see the area marked in the illustration).
See also:
Three-way catalytic converter
Three-way catalytic converter - general information • Keep your engine properly tuned. Certain engine malfunctions, particularly involving the electrical, fuel or distributor ignition systems, ma ...
Volvo maintenance
Volvo advises you to follow the maintenance program outlined in the Warranty and Service Records Information booklet. This maintenance program contains inspections and services necessary for the p ...
Safety Features
The S80 excels at safety. Before the little bubble above your head fills with the word "Duh," let me add that this Volvo has some breakthrough safety gizmos we hadn't seen until very rec ...