Tailgate wiper/washer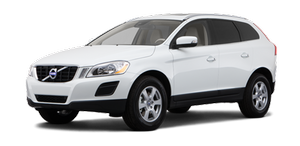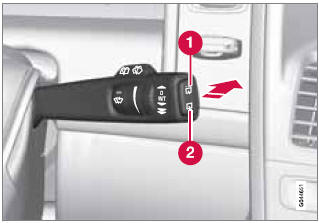 Move the lever forward to start the tailgate washer.
1 Intermittent wiping
2 Normal (continuous) wiping
NOTE
The rear wiper is equipped with cut-off function, which means that it will not operate if its electric motor overheats. The wiper will function again after a cool-down period (30 seconds or longer, depending on the heat of the motor and ambient temperature conditions).
See also:
Unleaded fuel
Each Volvo has a three-way catalytic converter and must use only unleaded gasoline. U.S. and Canadian regulations require that pumps delivering unleaded gasoline be labeled "UNLEADED". O ...
SIRIUS ID
The SIRIUS ID (sometimes referred to as the Electronic Serial Number or ESN) is required when contacting the Sirius Call Center. It is used to activate your account and when making any account ...
Sub-channels
Example of an HD Radio station with sub-channels In many cases, a main HD Radio station (FM wavebands only) will also have sub-channels offering additional types of programming or music. In ...