From inside the vehicle (central locking button)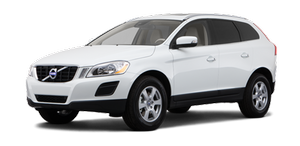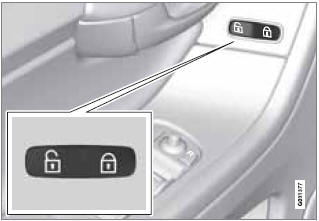 Central locking button
The lock buttons on the door panel can be used to lock or unlock all doors and the tailgate at the same time. Press

to lock and

to unlock.
Unlocking
The vehicle can be unlocked from inside the vehicle in two ways:
Х By pressing the unlock button

.
Х The door can be unlocked by pulling the door handle once and opened by pulling the handle again.
Locking
Х Press the lock button

after the front doors have been closed.
Х Each door can be locked individually with the lock button on the respective doors.
The door must be closed first.
Alternative locking when parking
The central locking button on the driver's door can also be used to lock the vehicle when you leave it. To do so:
1. Open the door.
2. Press the lock section of the button.
3. Close the door. This will lock the vehicle completely and arm the alarm.
NOTE
Please be aware that locking the vehicle in this way makes it possible to lock the remote key in the passenger compartment.
To help avoid this, lock the vehicle from the outside by pressing the lock button on the remote key.
If the vehicle is locked using the central locking button, be sure that the remote key is in your possession before closing the door.
See also:
Decals
There are various types of decals in the vehicle whose purpose is to provide important information in a clear and concise way. The importance of these decals is explained as follows, in descending ...
Hoisting the vehicle
If a garage jack is used to lift the vehicle, the two jack attachments points should be used. They are specially reinforced to bear the weight of the vehicle. A garage jack can also be placed ...
2009 Volvo S80 Review
The Volvo S80 was significantly redesigned for 2007, so it had been on the market only six months when the 2008 model arrived. The only significant change is a new engine option: a smooth and powe ...