Design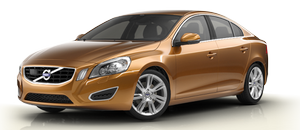 In its overall shape, the all-new Volvo S60 is a four-door coupé - sportier and more distinct than any previous Volvo.
The C-pillar of the all-new Volvo S60 stretches all the way to the tail lamps - and the slim coupé -like roof line is accompanied by a new contour on the shoulders on either side of the lower body. This creates a gentle double wave in the line from the headlamps at the front to the tail lamps at the rear.
The Volvo S60's athletic stance is accentuated by a sculpted bonnet and short overhangs front and rear, plus what Volvo's design team calls the "racetrack" design. The car's lines do not end abruptly but instead continue to flow organically, echoing the smooth shapes of the racetrack.
This sporty appearance can be further enhanced with an exterior styling kit that incorporates front and rear skid plates, two frames in the lower valence, side scuff plates, exhaust tailpipe finishers and 18-inch alloy wheels.
Volvo's designers have also used LED (Light Emitting Diode) technology to create distinctive, signature lights at the front and rear that make the car clearly identifiable as an Volvo S60, even in the dark.
The all-new Volvo S60 is being introduced with a range of exterior colours including two new shades: Vibrant Copper and Electrum Gold.
See also:
Oil volume
...
Adjusting the set speed
After a speed has been set, it can be increased or decreased by using the or buttons. 1. Press and hold down or until the vehicle reaches the desired speed. > This will become the set ...
Rear screen settings
When watching a video file, a pop-up menu can be displayed by pressing on the remote control. The content of this menu will vary, depending on the what is being played/viewed. ...