Driving Impressions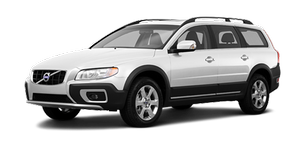 Serving as a thoroughly civilized, tightly constructed road machine, the XC70 cruises effortlessly. A touch on the gas pedal can make the car leap ahead, whether the driver is starting off from a standstill or is passing or merging.
Steering is on the heavy side, but it's not ponderous. Volvo's wagons are stable on the highway and corner well, but they can't be called snappy in urban driving. The XC70's firm suspension copes adeptly with bumps. Ride comfort is excellent on smooth roads. Even though you feel commotion on rough surfaces, not much is transmitted to the occupants.
See also:
Fastening a seat belt
Buckling Pull the belt out far enough to insert the latch plate into the receptacle until a distinct click is heard. The seat belt retractor is normally "unlocked" and you can move fr ...
Child safety
A passenger airbag cut off switch is available to enable a child seat to be carried in the front of the car, while, in the rear, Volvo has also paid special attention to child safety. Two integr ...
Fuel Formulations
Do not use gasoline that contains lead as a knock inhibitor, and do not use lead additives. Besides damaging the exhaust emission control systems on your vehicle, lead has been strongly linked to ...