Interior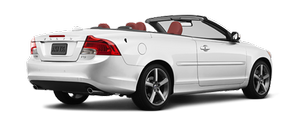 There's nothing like driving with the top down and the wind in your hair. It's magical. However, it comes at a price. Traveling light in this car is key because there isn't a lot of storage bins or trunk space.
The trunk houses the top when it's down, which doesn't leave a lot of room for your gear. There's a cordoned-off area in the trunk for bags, and a button in the trunk raises the collapsed roof a little to gain access to your cargo, which is handy. However, it doesn't allow much more access than normal, so plan accordingly.
In the front row, there are small lockable storage bins in the doors under the armrests. There are two cupholders in the center console and a couple more in the backseat's center console. This rear center console sits in front of the seats between the foot wells. This position makes getting in and out on the driver's side a little tricky for the person in the rear passenger-side seat. Take note that the C70 is a four-passenger car, and on long trips it's best if the rear passengers don't require a whole lot of legroom (but this makes it perfect for kids, right?).
Speaking of seats, the C70's are comfortable. Very comfortable. I had no problem spending all day in the C70 and would enjoy a long trip in this car any time. I loved the standard leather seats, which were Calcite (white) and Umbra colored; heated front seats are optional. Ordinarily, this color combination might feel a bit 1970s, but it was sporty and bright when paired with the C70's sharp lines.
Perhaps the best interior feature of the C70 is the optional Dynaudio surround-sound stereo, which is part of the Multimedia Package ($2,600). It's amazing how crisp and perfect it sounds, even with the wind blowing and traffic noise thanks to the standard speed-sensitive volume. Toto's "Africa" never sounded so good as it did in the C70's optional 12 speakers. I mean... Lady Gaga sounded like she was in the car next to me.
IT'S THE LITTLE THINGS THAT COUNT
Storage Compartments (Puny, Fair, Ample, Galore): Puny
Cargo/Trunk Space (Puny, Fair, Ample, Galore): Puny
See also:
Continued
This symbol can be found at the lower right corner of an odd-numbered (right-hand) page to indicate that the current topic is continued on the following page. ...
Check coolant level
The cooling system must be filled with coolant and not leak to operate at maximum efficiency. Check the coolant level regularly. The level should be between the MAX and MIN marks on the expansio ...
Fuel requir
Deposit control gasoline (detergent additives) Volvo recommends the use of detergent gasoline to control engine deposits. Detergent gasoline is effective in keeping injectors and intake valves cl ...