Re-installing the wheel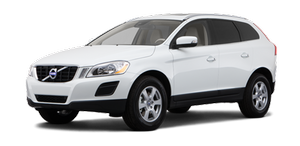 1. Clean the contact surfaces on the wheel and hub.
2. Lift the wheel and place it on the hub.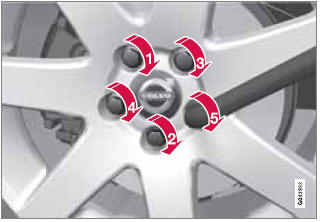 Tighten the lug nuts
3. Install the wheel nuts and tighten handtight.
Using the lug wrench, tighten crosswise until all nuts are snug.
4. Lower the vehicle to the ground and alternately tighten the bolts crosswise to 103 ft. lbs. (140 Nm).
5. Install the wheel cover (where applicable).
The opening in the wheel cover for the tire's inflation valve must be positioned over the valve.
See also:
Driving dynamics: steering, brakes and transmission
The five-cylinder petrol and diesel engines (2.5T, 2.4D and D5) have a six-speed manual gearbox which can be upgraded to the six-speed Geartronic transmission which is standard on the V8 engine. V ...
Brake Support
If the risk of collision continues to increase after the collision warning has been given, Brake Support is activated. Brake Support prepares the brake system to react quickly, and the brakes ...
Interior
There's nothing like driving with the top down and the wind in your hair. It's magical. However, it comes at a price. Traveling light in this car is key because there isn't a lot of storage bins o ...