Re-installing the wheel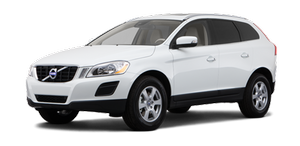 1. Clean the contact surfaces on the wheel and hub.
2. Lift the wheel and place it on the hub.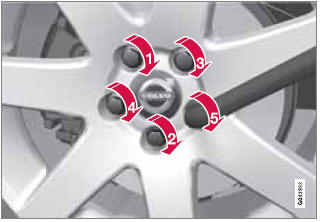 Tighten the lug nuts
3. Install the wheel nuts and tighten handtight.
Using the lug wrench, tighten crosswise until all nuts are snug.
4. Lower the vehicle to the ground and alternately tighten the bolts crosswise to 103 ft. lbs. (140 Nm).
5. Install the wheel cover (where applicable).
The opening in the wheel cover for the tire's inflation valve must be positioned over the valve.
See also:
My XC60
MY CAR My XC60 The display shows all of the vehicle's driver support systems, which can be activated/ deactivated here. ...
Introduction
Normally, when the accelerator pedal is released while driving down hills, the vehicle's speed slows as the engine runs at lower rpm (the normal engine braking effect). However, if the downhil ...
Handling, roadholding
Vehicle load, tire design and inflation pressure all affect vehicle handling. Therefore, check that the tires are inflated to the recommended pressure according to the vehicle load. See the " ...