Gasoline containing alcohol and ethers, "Oxygenated fuels"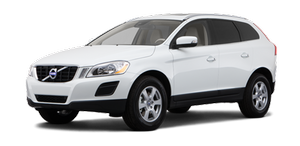 Some fuel suppliers sell gasoline containing "oxygenates" which are usually alcohols or ethers. In some areas, state or local laws require that the service pump be marked indicating use of alcohols or ethers. However, there are areas in which the pumps are unmarked. If you are not sure whether there is alcohol or ethers in the gasoline you buy, check with the service station operator. To meet seasonal air quality standards, some areas require the use of "oxygenated" fuel.
Volvo allows the use of the following "oxygenated" fuels; however, the octane ratings listed on page 267 must still be met.
Alcohol Ц Ethanol
Fuels containing up to 10% ethanol by volume may be used. Ethanol may also be referred to as Ethyl alcohol, or "Gasohol".
Ethers Ц MTBE: Fuels containing up to 15% MTBE may be used.
See also:
Airbag decals
Airbag decal on the outside of both sun visors Passenger's side airbag decal WARNING Х Children must never be allowed in the front passenger's seat. Х Occupants in the front passenger's seat ...
CHECK ENGINE Malfunction indicatorlight
On-Board Diagnostics II (OBDII): As you drive, a computer called "OBDII" monitors your vehicle's engine, transmission, electrical and emission systems. The CHECK ENGINE light will light ...
Functions
1 A/C Ц ON/OFF Х The air conditioning functions only at temperatures above 32∞F (0∞C). Х While the Defroster function is selected, the air conditioning is temporarily activated to dehumidify the ...