Interior design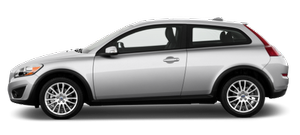 'At only 4.26 metres long, the C30 is not a big car, but its spacious cabin gives it a real big car feel,' says Mr Abrahamsson, Volvo C30 project director.
Volvo's iconic 'floating' centre console now available in new materials
One of the most elegant pieces of interior design is the modern, ultra-slim centre console, similar to the revolutionary design first introduced in the S40 saloon. The handsome console, which appears to float, contains most of the important switches and controls and contributes to the understated, simple and very Scandinavian interior design, which does without a plethora of confusing switchgear.
The centre stack is available in five different finishes, including Bauxite (standard) and Aluminium. A new Oyster Burst Deco is available as a no cost option on SE and SE Lux models and a cost option on ES. The colour on the Oyster Burst deco console shifts subtly from light to dark and back again.
'One of the research findings was that customers like to be able to personalise their cars as much as possible, and the C30 offers a range of interior finishes and features,' says Mr Abrahamsson.
The Volvo C30 offers a new colour combination called Espresso/Blond which consists of a dark brown upper section and a blond, fresh shade on the lower door sides - the blond tone being a grey/beige colour. The new Espresso/Blond interior gives customers the opportunity to specify new, bright accent colours which include orange, green and blue in the fabrics, as well as a new Cranberry colour for leather upholstery.
"We wanted to give customers the opportunity to decide for themselves what their car looks like. The C30 gives them a range of fresh, modern style cues in terms of colour and fabric to choose between," explains Maria Uggla, Program Chief Designer Colour & Trim at Volvo Cars.
Rear cargo area is spacious, versatile and easy to load
The individual rear seats fold separately so you can have a two, three or four-seat Volvo C30. The back rests fold almost flat into the floor; they are completely flat when any item of weight is placed on top.
The glass tailgate gives a wide and long opening area. Load height is very low (807mm, or just over two feet) improving ease of use. The luggage compartment is surprisingly big, at 251 litres when both rear seats are up but increases to a capacious 539 litres when the rear seats are folded. Two load covers - one soft which is standard and one hard which is available as a cost option - keep cargo contents from outside view.
Four comfortable individual seats for adults
The Volvo C30 is a true four-seater. Even the rear seats - individual chairs rather than a bench - are spacious enough for tall adults. They are both slightly centred, maximising shoulder and headroom. This also makes conversations between the front and rear passengers easier.
'We considered making the Volvo C30 a five seater but decided it was not necessary,' says Hakan Abrahamsson, C30 project director. 'It is a sporty car where the emphasis is on the driving experience. Besides, Volvo makes plenty of five-seat cars.'
The individual rear chairs offer much better lateral support than a conventional bench. They are typically wider and more comfortable than seats in a three-place rear bench and mirror the style and comfort of the supportive front seats. They have separate backrests, which can be folded individually. Entry and exit is easy thanks to the large front doors and front seats that automatically jack knife forward once the backrest is activated.
The four individual chairs increase the impression of space in the cabin. A noticeable 'corridor' runs through the middle of the car, between the seats. The rear carrying area is also low and flat. This feeling of airiness is further improved by the big glass area, including the deep front screen, glass tailgate and contoured side glass that tapers inward - boat like - towards the rear of the car.
To improve detection of other vehicles at the side of the car, BLIS (Blind Spot Information System) is optionally available. It uses cameras mounted in the door mirrors to register if another vehicle is directly behind, in the 'blind spot'. A lamp near the mirror illuminates to warn the driver.
Headroom and legroom are generous. Equally, the many seat adjustments make the Volvo C30 perfect for all sizes of people. Height and lumbar adjustment come as standard on both driver and front passenger seats. The steering wheel is reach and rake adjustable. Front and rear adjustable centre armrests are standard.
See also:
Removing the cover
1. Press one of the end pieces of the cover inward. 2. Pull the cover carefully upward and outward. The other end will release automatically from its retaining bracket. ...
Using HDC
HDC allows the car to roll forward at a maximum speed of 6 mph (10 km/h), and 4 mph (7 km/h) in reverse. However, the accelerator pedal can be used to select any speed that is possible in firs ...
Design concept
The Volvo S80 is a car that expresses a more dynamic evolution of Volvo's exterior design language. It's more sweeping, more elegant, tighter surfaced, and has a leaner and more agile look. &quo ...