Switching BLIS on and off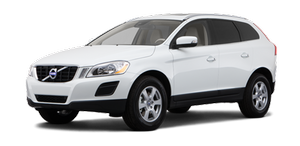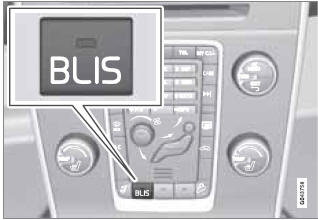 BLIS is automatically activated when the ignition is switched on. The indicator lights will provide confirmation by flashing 3 times.
• The system can be switched off by pressing the BLIS button in the center console (see the illustration). The indicator light in the button goes out when the system is switched off, and a text message is displayed.
• BLIS can be switched on again by pressing the button. The indicator light in the button will illuminate and a new text message will be displayed. Press the READ button (see page 131) to erase the message.
Depending on the vehicle's optional equipment, there may not be space for the BLIS button in the center console. In this case, BLIS can be switched on and off in the menu system by pressing MY CAR and going to Settings

Car settings

BLIS. See page 134 for a description of the menu system.
BLIS system messages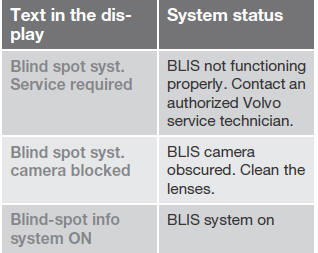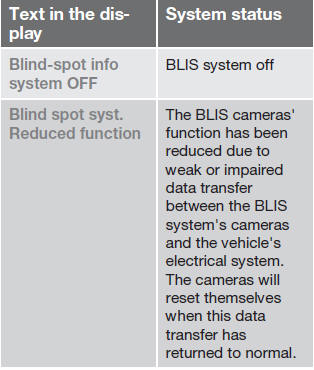 See also:
Brake system
The brake system is a hydraulic system consisting of two separate brake circuits. If a problem should occur in one of these circuits, it is still possible to stop the vehicle with the other br ...
Decals
There are various types of decals in the vehicle whose purpose is to provide important information in a clear and concise way. The importance of these decals is explained as follows, in descen ...
Environment
Volvo is passionately committed to protecting our environment. Along with safety, environmental protection is a cornerstone of the Volvo brand, commensurate with the company's philosophy to protect ...