Auto-brake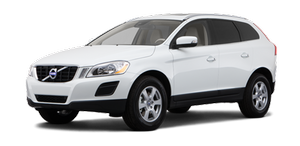 If a collision is imminent and the driver has not applied the brakes or begun to steer around the vehicle or pedestrian, the auto-brake function is activated without the driver pressing the brake pedal. Full brake force is applied to help reduce the vehicle's speed when the collision occurs or limited brake force is applied if this is sufficient to avoid the collision.
NOTE
The auto-brake and brake support functions are always on and cannot be turned off.
See also:
Exterior
For 2008, the nose and tail are modified, and though Volvo says it has changed the headlights and taillights, it seems limited to the elements within, such as taillamp LEDs and lens colors, and no ...
License plate lights
1. Switch off the ignition. 2. Loosen the screws with a Torx screwdriver. 3. Turn the bulb holder counterclockwise and pull it out. 4. Pull out the defective bulb and insert a new one. 5. Rein ...
Audible signal
The Park Assist system uses an intermittent tone that pulses faster as you come close to an object, and becomes constant when you are within approximately 1 ft (30 cm) of an object in front of or ...