Introduction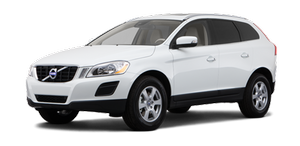 Distance Alert is part of Adaptive Cruise Control and is a function that provides information about the time interval to the vehicle ahead.
Distance Alert is active at speeds above approximately 18 mph (30 km/h). Time interval information is only given for a vehicle that is driving ahead of your vehicle in the same direction.
No information is provided for vehicles driving toward you, moving very slowly, or at a standstill.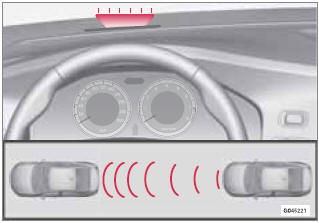 Amber warning light
An amber warning light in the windshield glows steadily if your vehicle is closer to the one ahead than the set time interval.
NOTE
Distance Alert only monitors distance to the vehicle ahead while Adaptive Cruise Control is in standby mode or off.
WARNING
Distance Alert only indicates the distance to the vehicle ahead. It does not affect the speed of your vehicle.
See also:
Maintenance
Use a screw driver to open the caps or cover and a flashlight to inspect the level. If necessary, add distilled water. The level should never be above the indicator. The fluid level should b ...
Dimensions
Dimensions ...
Automatic transmission
Shiftgate positions Depress the button on the front of the gear selector knob to move the gear selector between the R, N, D, and P positions. The gear selector can be moved freely between th ...