Standby mode (temporary deactivation)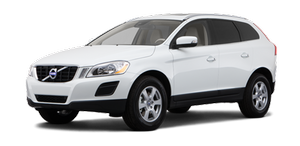 Press

to temporarily deactivate cruise control (put it in standby mode). The set speed, for example 55 mph, is then shown in parentheses.
The previously set speed and time interval are resumed by pressing

.
WARNING
There may be a significant increase in speed after the

button has been pressed.
When ACC is in active mode, the vehicle's speed increases by approximately 1 mph (1 km/h) each additional time

is pressed.
See also:
Volvo's recommendations
Why does Volvo believe that no child should sit in the front seat of a car? It's quite simple really. A front airbag is a very powerful device designed, by law, to help protect an adult. Because ...
Fuel filler cap
The fuel filler door, located on the right rear quarter panel, is connected to your vehicle's central locking system. ...
Introduction
Collision Warning with Full Auto-brake and Pedestrian Detection is designed to assist the driver if there is a risk of a collision with a pedestrian, a vehicle ahead that is at a standstill or ...