IR-reflecting windshield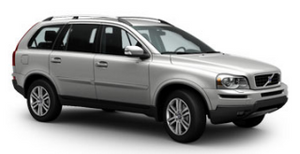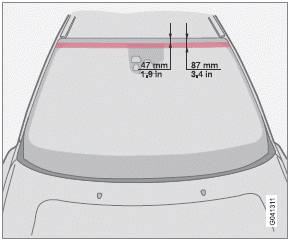 Section of the windshield where the IR-coating is not applied
An optional factory-installed infrared (IR) coating can be applied to the windshield to help protect the cabin from the sun's heat and the fading effect of sunlight on upholstery, panels, etc.
Electronic equipment such as garage door openers, electronic toll tags and similar devices should not be placed on sections of the windshield with the IR coating because this could affect their function and limit their range.
For best performance, place the device on the section of the windshield without the IR coating (see the area marked in the illustration).
See also:
Overview
At its launch in early 2006, the Volvo C70 broke new ground as the world's first four seater convertible with a retractable hard top. Now, more than three years on, the new Volvo C70 coupe/convert ...
How HD broadcasting works
HD Radio works similarly to conventional radio and broadcasts of this type are available in many areas of the United States. However, there are a few key differences: • Instead of transmitting ...
When does BLIS function
The system functions when your vehicle is moving at speeds above 6 mph (10 km/h). When you pass another vehicle: The system reacts when you pass another vehicle at a speed of up to 6 mph (10 km/ ...