Exterior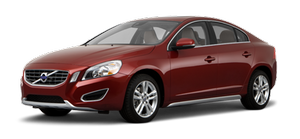 For 2008, the nose and tail are modified, and though Volvo says it has changed the headlights and taillights, it seems limited to the elements within, such as taillamp LEDs and lens colors, and not a change in overall shape. The V-shaped hood bulge runs down into a more sculpted nose, and the lower air intake is broader. The unmistakable diagonal cross-member grille is even less mistakable, with a 50 percent larger Volvo logo. In contrast to the nose, the door sill and bumper extensions have been smoothed out. A Dynamic Trim Package option for the T5 adds a liftgate spoiler, side skirts and spoilers for the "chin" and below the rear bumper.
For 2008, Volvo has discontinued one of the V50's two silver paint choices, added Gecko Green and changed one of the blues.
The V50 was an early adopter of side mirrors with integrated turn signals. Sixteen-inch alloy wheels are standard, but 17-inchers are available on either trim level. Along with 17-inch wheels, the Premium Package adds aluminum roof rails.
See also:
Safety
Volvo's commitment to safety is as old as the company itself. As Assar Gabrielsson, one of the founders of Volvo, declared: "Cars are driven by people. The guiding principle behind everything ...
Styling
I've been a fan of the Volvo S40's face since it was last redesigned, and I'm glad to see the look spreading across the Volvo brand to models like the S80 and now the C30, which is related to both ...
Maintenance
Your Volvo passed several major inspections before it was delivered to you, in accordance with Volvo specifications. The maintenance procedures outlined in the Warranty and Service Records Inf ...