Chassis, steering and brakes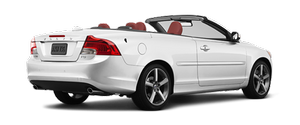 Excellent driving dynamics was a priority for the new Volvo C70.
Convertible cars are renowned for poor structural rigidity - which hurts handling response, refinement and safety. By contrast, the new Volvo C70 has twice the structural rigidity of the original C70, and is one of the most torsionally rigid convertible cars in the world. So its feels taut, agile and predictable at all times, roof up or down.
The new Volvo C70 shares its basic technology with other Volvo models, including front-wheel drive and an extremely stable, compliant chassis. Suspension is fully independent. MacPherson struts are fitted at the front and there is a multi-link axle at the rear. Spring and damper rates have been designed to blend agility and response, with comfort and suppleness. DSTC (Dynamic Stability and Traction Control) ensures stable handling by eliminating wheel slip and automatically helps correct the car if any slide is detected.
Steering is speed-dependent rack-and-pinion. Electro-hydraulic power assistance blends the superior feel of an hydraulic system with the added energy benefits of electric power steering.
Large power-assisted anti-lock disc brakes give superb stopping power. The front discs are ventilated for superior cooling, reducing brake fade. EBA (Emergency Brake Assist) cuts braking distance in an emergency while EBD (Electronic Brake Distribution) further improves braking by correctly distributing front-to-rear brake bias taking into account vehicle loads and road conditions.
See also:
News - City Safety
City Safety is a new function, sensing if vehicles ahead are moving slower or standing still. By measuring the car's speed and distance to the vehicle ahead, City Safety is able to calculate the b ...
Guiding lines
The lines on the screen are projected as if they were a path on the ground behind the vehicle and are affected by the way in which the steering wheel is turned. This enables the driver to see pa ...
Scanning
SCAN automatically searches through the list of satellite channels. The search will only be carried out in the selected category, see page 214 for more detailed information on the scan function. ...