Vehicles equipped with Park Assist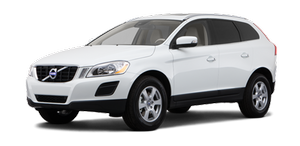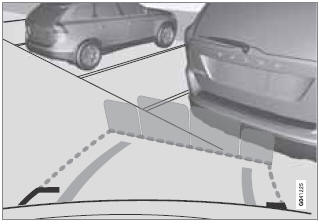 Colored fields (4-one per sensor) indicate distance
If the vehicle is equipped with the optional Park Assist system, the distance to an object will be indicated more exactly and colored markers in the display indicate which of the sensor(s) has detected the object.
The markers change color (from yellow to orange to red) as the vehicle comes closer to the object.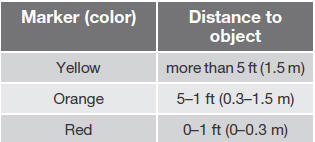 See also:
Rear fog light
1. Switch off the ignition. 2. Carefully insert a small screwdriver (see illustration above). 3. Pry out the lamp housing. 4. Turn the bulb holder counterclockwise and remove it. 5. Turn the b ...
Engine and cooling system
Under special conditions, for example when driving in hilly terrain, extreme heat or with heavy loads, there is a risk that the engine and cooling system will overheat. Proceed as follows to a ...
Removing and storing the cargo net
Press the release buttons on the locks on the straps and pull out a small section of the strap. Press in the catches on the straps' hooks and remove the hooks from the eyelet. Fold u ...