Setting a time interval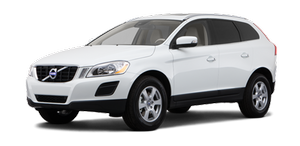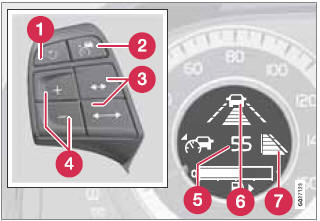 Controls and display
3 Time interval: Increase/decrease
6 Time interval: On, while it is being set
7 Time interval: On, after it has been set
Press

to increase the interval or

to decrease it.

Five different time intervals can be selected and are shown in the display as 1–5 horizontal bars. The greater the number of bars, the longer the time interval. One bar represents approximately 1 second to the vehicle ahead; 5 bars is approximately 2.5 seconds.

The number of bars indicating the selected time interval are shown while the setting is being made and for several seconds afterward. A smaller version of the symbol is then shown to the right in the display.
The same symbol is displayed when Adaptive Cruise Control (ACC) is activated.
NOTE
• The higher your vehicle's speed, the greater the distance to the vehicle ahead, measured in feet (meters), for a given time interval.
• The set time interval is also used by Adaptive Cruise Control, see page 156.
WARNING
Only use a time interval that is suitable in current traffic conditions.
See also:
Water on brake discs and brake padsaffects braking
Driving in rain and slush or passing through an automatic car wash can cause water to collect on the brake discs and pads. This will cause a delay in braking effect when the pedal is depressed. To ...
Exterior lighting
Condensation may form temporarily on the inside of the lenses of exterior lights such as headlights, fog lights, or taillights. This is normal and the lights are designed to withstand moisture ...
Seat belt reminder
Seat belt reminder light in ceiling console The seat belt reminder consists of an audible signal, an indicator light near the rearview mirror and a symbol in the instrument panel that alert all o ...