Using HDC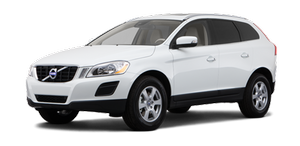 HDC allows the car to roll forward at a maximum speed of 6 mph (10 km/h), and 4 mph (7 km/h) in reverse. However, the accelerator pedal can be used to select any speed that is possible in first or reverse gears. When the accelerator pedal is released, speed is quickly reduced again to 6 mph (10 km/h) or 4 mph (7 km/h), depending on the gear selected, regardless of the hill's gradient. It is not necessary to apply the brakes.
Х The brake lights illuminate automatically when HDC is controlling the vehicle's speed.
Х The driver can slow or stop the vehicle at any time by applying the brakes.
HDC is deactivated when:
Х The button on the center console is pressed
Х A gear higher than first gear is selected
Х D is selected on vehicles with an automatic transmission
HDC can be deactivated at any time. If this is done while driving down a steep hill, the system's braking effect will decrease gradually.
NOTE
Engine response to pressure on the accelerator pedal may be slightly slower than normal when HDC is activated.
See also:
Engine compartment, overview
The appearance of the engine compartment may vary depending on engine model. 1 Coolant expansion tank 2 Power steering fluid reservoir 3 Engine oil dipstick 4 Radiator 5 Filler cap for engine ...
Electrical system
General information 12-volt system with voltage controlled generator. Single wire system in which the chassis and engine block are used as conductors, grounded on the chassis. Battery If you ...
Information displays
Information displays in the instrument panel The information displays show information on some of the vehicle's functions, such as cruise control, the trip computer and messages. The informat ...