Using HDC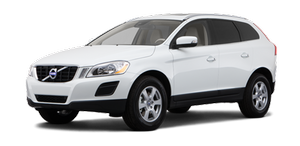 HDC allows the car to roll forward at a maximum speed of 6 mph (10 km/h), and 4 mph (7 km/h) in reverse. However, the accelerator pedal can be used to select any speed that is possible in first or reverse gears. When the accelerator pedal is released, speed is quickly reduced again to 6 mph (10 km/h) or 4 mph (7 km/h), depending on the gear selected, regardless of the hill's gradient. It is not necessary to apply the brakes.
Х The brake lights illuminate automatically when HDC is controlling the vehicle's speed.
Х The driver can slow or stop the vehicle at any time by applying the brakes.
HDC is deactivated when:
Х The button on the center console is pressed
Х A gear higher than first gear is selected
Х D is selected on vehicles with an automatic transmission
HDC can be deactivated at any time. If this is done while driving down a steep hill, the system's braking effect will decrease gradually.
NOTE
Engine response to pressure on the accelerator pedal may be slightly slower than normal when HDC is activated.
See also:
Changing the set speed
After a speed has been set, it can be increased or decreased by using the or buttons. Each time one of these buttons is pressed, the vehicle's speed changes by 5 mph (approximately 8 km/h). ...
Interior Air Quality System (IAQS)
A multifilter helps reduce gases and particles in the incoming air, thereby reducing the levels of odors and contaminants entering the vehicle. The air quality sensor detects increased levels o ...
Unleaded fuel
Each Volvo has a three-way catalytic converter and must use only unleaded gasoline. U.S. and Canadian regulations require that pumps delivering unleaded gasoline be labeled "UNLEADED". O ...