Using HDC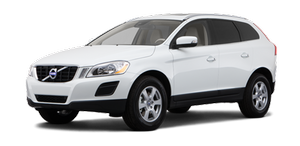 HDC allows the car to roll forward at a maximum speed of 6 mph (10 km/h), and 4 mph (7 km/h) in reverse. However, the accelerator pedal can be used to select any speed that is possible in first or reverse gears. When the accelerator pedal is released, speed is quickly reduced again to 6 mph (10 km/h) or 4 mph (7 km/h), depending on the gear selected, regardless of the hill's gradient. It is not necessary to apply the brakes.
Х The brake lights illuminate automatically when HDC is controlling the vehicle's speed.
Х The driver can slow or stop the vehicle at any time by applying the brakes.
HDC is deactivated when:
Х The button on the center console is pressed
Х A gear higher than first gear is selected
Х D is selected on vehicles with an automatic transmission
HDC can be deactivated at any time. If this is done while driving down a steep hill, the system's braking effect will decrease gradually.
NOTE
Engine response to pressure on the accelerator pedal may be slightly slower than normal when HDC is activated.
See also:
The Federal Clean Air Act Ц U.S.
The Federal Clean Air Act requires vehicle manufacturers to furnish written instructions to the ultimate purchaser to assure the proper servicing and function of the components that control em ...
Safety
VolvoТs Roll Stability Control System employs a gyrosensor. If the rollover risk reaches a specified threshold, Dynamic Stability Traction Control is activated. Inflatable side curtain-type airbag ...
SIRIUS ID
The SIRIUS ID (sometimes referred to as the Electronic Serial Number or ESN) is required when contacting the Sirius Call Center. It is used to activate your account and when making any account ...