Using HDC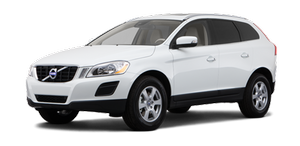 HDC allows the car to roll forward at a maximum speed of 6 mph (10 km/h), and 4 mph (7 km/h) in reverse. However, the accelerator pedal can be used to select any speed that is possible in first or reverse gears. When the accelerator pedal is released, speed is quickly reduced again to 6 mph (10 km/h) or 4 mph (7 km/h), depending on the gear selected, regardless of the hill's gradient. It is not necessary to apply the brakes.
Х The brake lights illuminate automatically when HDC is controlling the vehicle's speed.
Х The driver can slow or stop the vehicle at any time by applying the brakes.
HDC is deactivated when:
Х The button on the center console is pressed
Х A gear higher than first gear is selected
Х D is selected on vehicles with an automatic transmission
HDC can be deactivated at any time. If this is done while driving down a steep hill, the system's braking effect will decrease gradually.
NOTE
Engine response to pressure on the accelerator pedal may be slightly slower than normal when HDC is activated.
See also:
Introduction
System overview 1 Cell phone 2 Location of the microphone 3 Steering wheel keypad 4 Center console control panel and display ...
Troubleshooting
If Windscreen Sensors blocked appears in the information display, this indicates that the City SafetyЩ laser sensor is obstructed in some way and cannot detect vehicles ahead of you, which means t ...
Uniform Tire Quality Grading
ALL PASSENGER VEHICLE TIRES MUST CONFORM TO FEDERAL SAFETY REQUIREMENTS IN ADDITION TO THESE GRADES Quality grades can be found, where applicable, on the tire sidewall between the tread shoulder ...