Using HDC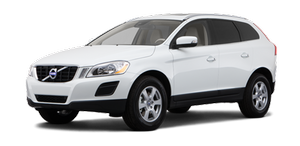 HDC allows the car to roll forward at a maximum speed of 6 mph (10 km/h), and 4 mph (7 km/h) in reverse. However, the accelerator pedal can be used to select any speed that is possible in first or reverse gears. When the accelerator pedal is released, speed is quickly reduced again to 6 mph (10 km/h) or 4 mph (7 km/h), depending on the gear selected, regardless of the hill's gradient. It is not necessary to apply the brakes.
Х The brake lights illuminate automatically when HDC is controlling the vehicle's speed.
Х The driver can slow or stop the vehicle at any time by applying the brakes.
HDC is deactivated when:
Х The button on the center console is pressed
Х A gear higher than first gear is selected
Х D is selected on vehicles with an automatic transmission
HDC can be deactivated at any time. If this is done while driving down a steep hill, the system's braking effect will decrease gradually.
NOTE
Engine response to pressure on the accelerator pedal may be slightly slower than normal when HDC is activated.
See also:
Interior Design
While the exterior of the Volvo S40 could be described as evolutionary from the S60 and S80, the interior represents nothing less than a revolution in car design. Its focal point is an ultra-thin ...
Input volume
Adjust the input volume in the RSE menu, under A/V AUX input volume. ...
Removal
Switch off the ignition, remove the remote key from the ignition slot and wait at least 5 minutes before disconnecting the battery so that all information in the vehicle's electrical system ca ...