Six-cylinder turbo engine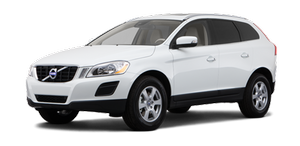 The 3-litre, six-cylinder turbo engine is transversely mounted and very compact. The engine delivers 285 horsepower and 400 Nm of torque, from low up to high revs. The turbo-six provides a high level of driving pleasure, with quick throttle response at all speeds, ideal for quick overtaking, for example.
Five-cylinder turbo-diesel in two variants
The Volvo XC60 is available with two five-cylinder turbo-diesel engines, producing 163 hp and 340 Nm or 185 hp and 400 Nm. The diesel engines combine low fuel consumption with sporty driving characteristics. The driveability is very good even with a heavy load or when driving with a trailer. Both engines are equipped with a diesel particulate filter (DPF) to help reduce the amount of harmful particles in the exhaust gases.
Six-speed automatic transmission with Geartronic
The compact, six-speed automatic transmission has been engineered to handle the high torques developed by engines such as the T6 and the powerful D5 diesel engine. Geartronic enables the automatic transmission to be used as a manual gearbox as well.
See also:
Current fuel consumption (Instantaneous)
Current fuel consumption is calculated every second. The information on the display is updated every few seconds. When the vehicle is stationary, "----" appears on the display. ...
Family-friendly features
One of the areas where the XC60 really shines is in its simple Scandinavian interior. The designers tried to replicate the sensation of peace and tranquility they experience on the Swedish coastli ...
The laser sensor
The upper decal describes the laser beam's classification and contains the following text: Invisible Laser radiation – Do not view directly with optical instruments (magnifiers) – Class 1M ...