Six-cylinder turbo engine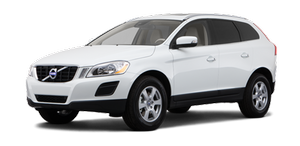 The 3-litre, six-cylinder turbo engine is transversely mounted and very compact. The engine delivers 285 horsepower and 400 Nm of torque, from low up to high revs. The turbo-six provides a high level of driving pleasure, with quick throttle response at all speeds, ideal for quick overtaking, for example.
Five-cylinder turbo-diesel in two variants
The Volvo XC60 is available with two five-cylinder turbo-diesel engines, producing 163 hp and 340 Nm or 185 hp and 400 Nm. The diesel engines combine low fuel consumption with sporty driving characteristics. The driveability is very good even with a heavy load or when driving with a trailer. Both engines are equipped with a diesel particulate filter (DPF) to help reduce the amount of harmful particles in the exhaust gases.
Six-speed automatic transmission with Geartronic
The compact, six-speed automatic transmission has been engineered to handle the high torques developed by engines such as the T6 and the powerful D5 diesel engine. Geartronic enables the automatic transmission to be used as a manual gearbox as well.
See also:
Tire sealing system–temporarilyrepairing a flat tire
Temporarily repairing a flat tire is done in two stages: • Stage 1: The hole is sealed by pumping sealing compound into the tire. The car is then driven a short distance to distribute the sea ...
Interior rearview mirror
Auto-dim function An integrated sensor reacts to headlights from following traffic and automatically reduces glare in the mirror. ...
Under the Hood
A 2.4-liter inline-five-cylinder produces 168 horsepower in the base wagon. The high-performance T5 holds a turbocharged 2.5-liter five-cylinder that generates 218 hp and 236 pounds-feet of torque ...