Rain sensor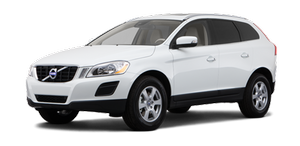 The rain sensor automatically regulates wiper speed according to the amount of water on the windshield. The sensitivity of the rain sensor can be adjusted moving the thumb wheel up (the wipers will sweep the windshield more frequently) or down (the wipers will sweep the windshield less frequently).
NOTE
The wipers will make an extra sweep each time the thumb wheel is adjusted upward.
When the rain sensor is activated, the symbol

will illuminate in the instrument panel.
Activating and setting the sensitivity
When activating the rain sensor, the vehicle must be running or in ignition mode II and the windshield wiper lever must be in position 0 or in the single sweep position.
Activate the rain sensor by pressing the button

. The windshield wipers will make one sweep.
Press the lever up for the wipers to make an extra sweep. The rain sensor returns to active mode when the stalk is released back to position 0.
Deactivating
Deactivate the rain sensor by pressing the button

or press the lever down to another wiper position.
The rain sensor is automatically deactivated when the key is removed from the ignition slot or five minutes after the ignition has been switched off.
CAUTION The rain sensor should be deactivated when washing the car in an automatic car wash, etc. If the rain sensor function is left on, the wipers will start inadvertently in the car wash and could be damaged.
See also:
Installation
1. Lower the battery into the battery box. 2. Move the battery inward and to the side until it reaches the rear edge of the box. 3. Tighten the clamp that secures the battery. 4. Connect the ve ...
Applying the electric parking brake
Parking brake control 1. Press firmly on the brake pedal. 2. Push the control. > The symbol in the instrument panel flashes while the parking bake is being applied, and glows steadily whe ...
Introduction
The vehicle's media player is equipped with Bluetooth® and can play streaming audio files from a Bluetooth® device such as a cell phone or personal digital assistant (PDA). Navigation and cont ...