Interior lighting, front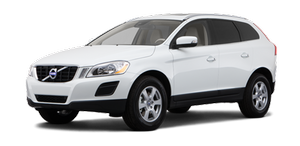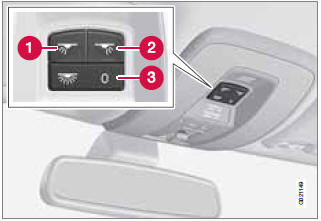 Light switches, front roof lighting
1 Drivers side front reading light, on/off.
2 Passenger's side front reading light, on/off.
3 Overhead courtesy lighting.
The lighting in the front part of the passenger compartment is controlled with the buttons (1) and (2) in the roof console.
Switch (3) has three positions for all passenger compartment lighting:
Х Off: right side depressed, automatic lighting off.
Х Neutral position: automatic lighting is on.
Х On Ц left side depressed, passenger compartment lighting on.
See also:
Warning/information symbol in center ofthe instrument panel
This symbol shines as a red or yellow light depending on the nature of the information displayed. Red symbol Ц Stop the vehicle as soon as possible in a suitable location and read the message ...
Blower control
Turn the control clockwise to increase or counterclockwise to decrease the blower speed. If AUTO is selected, blower speed will be regulated automatically and this will override manual a ...
Additional fuses in the cargo compartment (XC90 Executive)
The fuses in the cargo area are located behind the panel on the driver's side of the cargo compartment. When replacing a blown fuse, be sure to replace it with a new one of the same color and ...