MY KEY Ц programming a shortcut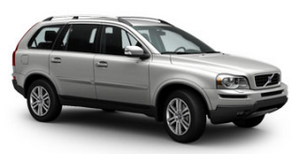 Use the MY KEY button to program a favorite function from the menu, such as RANDOM, etc.
1. Use the MENU buttons to scroll among the functions.
2. Select the desired function from the menu by pressing the MY KEY button for more than two seconds.
3. When MY KEY STORED is shown in the display, the function has been stored.
4. Activate the function by briefly pressing the MY KEY button.
Repeat steps 1 Ц 4 to store new functions on the MY KEY buttons.
NOTE
The MY KEY buttons can only be programmed for one shortcut function at a time.
See also:
Ignition modes and electrical current to RSE
RSE can be activated with the ignition in modes I or II (and when the engine is running). See page 82 for detailed information about the various ignition modes. If a film is being played, it wi ...
Check coolant level
The cooling system must be filled with coolant and not leak to operate at maximum efficiency. Check the coolant level regularly. The level should be between the MAX and MIN marks on the expansio ...
Safety
You don't have to worry about whether it's safe to put your kids in this convertible. When driving with the top down, the C70 has roll bars that pop up behind the rear seats if the C70 tilts past ...