Owner maintenance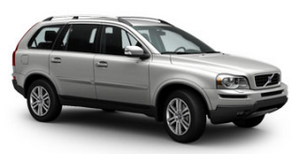 Periodic maintenance requirements and intervals are described in your vehicle's Warranty and Service Records Information booklet.
The following points can be carried out between the normally scheduled maintenance services.
Each time the vehicle is refueled
Х Check the engine oil level
Х Clean the windshield, windshield wipers, headlights, and tail lights
Monthly
Х Check cold tire pressure in all tires. Inspect the tires for wear.
Х Check that engine coolant and other fluid levels are between the indicated "min" and "max" markings.
Х Clean interior glass surfaces with a glass cleaner and soft paper towels.
Х Wipe driver information displays with a soft cloth.
Х Visually inspect battery terminals for corrosion.
Corrosion may indicate a loose terminal connector, or a battery near the end of its useful service life. Consult a trained and qualified Volvo service technician for additional information.
As needed
Х Wash the vehicle, including the undercarriage, to reduce wear that can be caused by a buildup of dirt, and corrosion that can be caused by salt residues.
Х Clean leaves and twigs from air intake vents at the base of the windshield, and from other places where they may collect.
Х Complete service information for qualified technicians is available online for purchase or subscription at www.volvotechinfo.com.
See also:
Operation
Chassis settings Use the buttons in the center console to change setting. The setting in use when the engine is switched off is activated the next time the engine is started. ...
Remote control
The remote control included with the Rear Seat Entertainment system (RSE)* can be used to control all of the infotainment system's functions. To use the remote, begin by pressing its button to ...
Function
Location of the laser sensor in the windshield City SafetyЩ monitors traffic ahead of you using a laser sensor mounted in the upper section of the windshield. If a collision is imminent, City ...