New dynamic chassis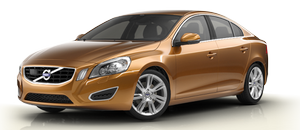 The new Volvo S60 is the most sporting Volvo ever built and during the development process, the chassis team refined every single detail to fine tune the driving experience. The result of their labours is a newly-developed Dynamic chassis, standard on every new Volvo S60.
The steering gear ratio is 10 per cent faster than in previous models to give enhanced steering feel and sharper response. The steering column's thicker tubing and stiffer bushes have increased torsional rigidity by 100 per cent. This also contributes to the increased feeling of direct contact with the wheels and the road.
The front spring struts have thicker pistons compared with the sports chassis in the Volvo S80. The resultant 47 per cent increase of stiffness means that the body structure is better able to absorb lateral loads. The springs themselves are shorter and stiffer than before and the Eigen frequency has increased by 10 per cent. At the front, spring strut mounting stiffness has increased by 50 per cent. The front and rear subframe bushes are up to twice as stiff compared with previous models. The link arm bushings have also been optimised for sporty driving and full control.
The damper mountings at the rear are made of PUR (polyurethane) instead of rubber to provide better balance between comfort and dynamic control.
Stefan Sällqvist, responsible for the Volvo S60 chassis development explained: "We spent many weeks fine-tuning the dampers out in the English countryside. We drove on old Roman roads that have only ever received a few layers of tarmac over the centuries - a perfect environment for finding the right damping qualities."
See also:
Setting a speed
Once ACC has been put in standby mode, use the or buttons to store (set) the vehicle's current speed. This puts the system in active mode. The set speed, for example 55 mph, is shown in th ...
Use of Additives
With the exception of gas line antifreeze during winter months, do not add solvents, thickeners, or other store-bought additives to your vehicle's fuel, cooling, or lubricating systems. Overuse ...
Severe strain on the brake system
The brakes will be subject to severe strain when driving in mountains or hilly areas, or when towing a trailer. Vehicle speed is usually slower, which means that the cooling of the brakes is less ...