Overview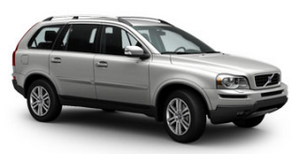 1 AC Ц (ON/OFF)
2 Recirculation/Multifilter with sensor
3 Recirculation
4 AUTO
5 Air distribution
6 Passenger compartment temperature sensor
7 Defroster windshield and side windows
8 Rear window and door mirrors defroster
9 Heated front seats
10 Temperature passenger´s side
11 Temperature driver´s side
12 Blower
13 Blower control for rear climate system
See also:
Buttons on the remote
Lock Ц Press the Lock button on the remote once to lock all doors and the tailgate. The turn signals will flash once to confirm locking. Unlock Ц Press the Unlock button on the remote once ...
Other alarm-related functions
Automatic re-arming If the doors are unlocked, the locks will automatically reengage (re-lock) and the alarm will re-arm after 2 minutes unless a door or the trunk has been opened. Audible/visual ...
Audio system overview
1 CD player 2 VOLUME Ц turn to adjust 3 POWER Ц On/Off 4 AM/FM Ц for switching between FM1, FM2 and AM 5 Display 6 ENTER Ц select in the menu or activate a selection 7 Not in use 8 MY KEY Ц p ...