High/low beam headlights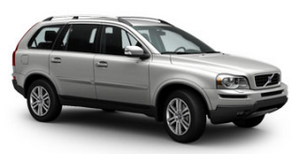 Continuous high beams 1. Turn the ignition key to position II.
2. With the light switch in position

, (see page 67) pull the turn signal lever toward the steering wheel to toggle between high and low beams.
High beam flash
1. Turn the ignition key to position II.
2. Pull the turn signal lever to position (3). The high beams will remain on until the lever is released.
Home safe lighting
When leaving your vehicle at night, home safe lighting can illuminate the area in front of the vehicle.
1. Remove the key from the ignition switch.
2. Pull the turn signal lever as far as possible toward the steering wheel and release it.
3. Exit the vehicle and lock the doors.
The headlights and parking lights will illuminate and remain on for 301, 60 or 90 seconds. The time interval can be changed by a trained and qualified Volvo service technician.
See also:
It's the little things that count
Storage Compartments (Puny, Fair, Ample, Galore): Fair Cargo/Trunk Space (Puny, Fair, Ample, Galore): Ample ...
Water on brake discs and brake padsaffects braking
Driving in rain and slush or passing through an automatic car wash can cause water to collect on the brake discs and pads. This will cause a delay in braking effect when the pedal is depressed. To ...
Seat belt use during pregnancy
The seat belt should always be worn during pregnancy. But it is crucial that it be worn in the correct way. The diagonal section should wrap over the shoulder then be routed between the breasts ...