Volvo's recommendations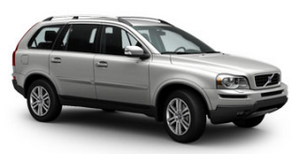 Why does Volvo believe that no child should sit in the front seat of a car? It's quite simple really.
A front airbag is a very powerful device designed, by law, to help protect an adult.
Because of the size of the airbag and its speed of inflation, a child should never be placed in the front seat, even if he or she is properly belted or strapped into a child safety seat. Volvo has been an innovator in safety for over seventy- five years, and we'll continue to do our part. But we need your help. Please remember to put your children in the back seat, and buckle them up.
Volvo has some very specific recommendations:
Х Always wear your seat belt.
Х Airbags are a SUPPLEMENTAL safety device which, when used with a threepoint seat belt can help reduce serious injuries during certain types of accidents.
Volvo recommends that you do not disconnect the airbag system in your vehicle.
Х Volvo strongly recommends that everyone in the vehicle be properly restrained.
Х Volvo recommends that ALL occupants (adults and children) shorter than 4 feet 7 inches (140 cm) be seated in the back seat of any vehicle with a front passenger side airbag.
Х Drive safely!
See also:
Interior
The standard upholstery in the five-occupant interior has a slightly coarse woven feel said to be inspired by sportswear. Leather upholstery is available. Volvo says storage space is improved both ...
Warning lightЧdriver braking required
Adaptive Cruise Control can exert brake force that is equivalent to approximately 40% of the vehicle's total braking capacity. In situations requiring more brake force than ACC can provide and ...
Recalibrating TPMS (Canadian models only)
In certain cases, it may be necessary to recalibrate TPMS to conform to Volvo's recommended tire inflation pressures (see the inflation pressure table on page 275), for example, if higher infl ...