Overview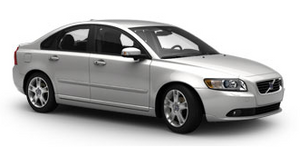 With dynamic design, high quality and class-leading safety, the Volvo S40 saloon is a true Volvo and one that asserts a unique identity in the growing premium compact class.
Boasting a four-door bodyshell in a sector currently dominated by three or five-door alternatives, it appeals to younger customers who demand a car that combines the practicality of a four-door saloon with the style, comfort and refinement afforded by a premium marque.
"Premium car buyers might opt for a smaller model, but they won't accept compromises," said Hans-Olov Olsson, the CEO and President of Volvo Car Corporation at the S40's launch at the Frankfurt motor show in September 2003. "Thankfully, with the Volvo S40, they won't have to."
The Volvo S40 is available in S, SE, SE Lux, R-DESIGN Sport and R-DESIGN SE Sport trim levels, with engines ranging from 1.6-litre petrol and diesel to the high-performance five-cylinder, 2.5-litre T5, and including three new options for 2007: a 2.0-litre, 145 PS, four-cylinder petrol, the 2.4-litre, 180 PS, five-cylinder D5 turbodiesel and the environmentally friendly 1.8 Flexifuel engine.
The S40 saloon is produced at Volvo's Ghent plant in Belgium, and since it arrived in UK showrooms in early 2004 it has become one of Volvo's most popular models in the UK - the second best-selling model in the range in 2007 (1st V50, 3rd XC90) - with 4,688 cars sold, while globally Volvo sold a total of 63,062 S40's in 2007.
See also:
Ambient lighting conditions
The camera automatically monitors the ambient lighting conditions behind the vehicle and constantly adjusts sensitivity to light. This may cause the brightness and quality of the image on the ...
High/low beam headlights
Continuous high beams 1. Turn the ignition key to position II. 2. With the light switch in position , (see page 67) pull the turn signal lever toward the steering wheel to toggle between high a ...
Summer and winter tires
The arrows shows the direction of rotation of the tire • When switching between summer and winter tires, mark the tires to indicate where they were mounted on the car, e.g., LF = left front, ...