Interior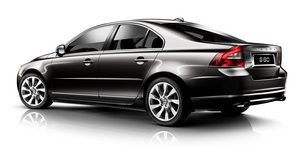 Volvo's largest sedan is categorized as a midsize passenger car, but its spacious interior makes some other luxury sedans look small by comparison. Even with a sunroof, headroom is ample for tall passengers. Rear-seat occupants enjoy generous legroom and foot space. Large side windows provide excellent views. Leather seating surfaces, power front seats and dual-zone electronic climate control are standard.
Even though the trunk lid opens more than 90 degrees, the opening isn't particularly large. Still, the cargo floor is long, wide and flat. Trunks hold 14.4 cubic feet of cargo. Split rear seatbacks fold flat without the need to remove the head restraints. Each rear head restraint folds down with the push of a dashboard button. A navigation system with a pop-up video screen is available.
See also:
Front footwell lighting
The front footwell lights are located under the dashboard on the driver's and passenger's sides. To replace a bulb: 1. Carefully insert a screwdriver and pry out the lens. 2. Replace the d ...
Methanol
Do not use gasolines containing methanol (methyl alcohol, wood alcohol). This practice can result in vehicle performance deterioration and can damage critical parts in the fuel system. Such damage ...
Safety
Like all Volvo models, the XC90 features a comprehensive safety package designed to protect occupants in a wide variety of accidents. Given the higher centre of gravity of an SUV, however, there h ...