Interior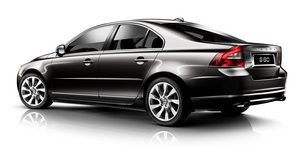 Volvo's largest sedan is categorized as a midsize passenger car, but its spacious interior makes some other luxury sedans look small by comparison. Even with a sunroof, headroom is ample for tall passengers. Rear-seat occupants enjoy generous legroom and foot space. Large side windows provide excellent views. Leather seating surfaces, power front seats and dual-zone electronic climate control are standard.
Even though the trunk lid opens more than 90 degrees, the opening isn't particularly large. Still, the cargo floor is long, wide and flat. Trunks hold 14.4 cubic feet of cargo. Split rear seatbacks fold flat without the need to remove the head restraints. Each rear head restraint folds down with the push of a dashboard button. A navigation system with a pop-up video screen is available.
See also:
Engine compartment
1 Engine compartment, upper 2 Engine compartment, front 3 Engine compartment, lower Positions These fuses are all located in the engine compartment box. Fuses in C are located under A. NOTE ...
Deposit control gasoline (detergent additives)
Volvo recommends the use of detergent gasoline to control engine deposits. Detergent gasoline is effective in keeping injectors and intake valves clean. Consistent use of deposit control gasol ...
Economical driving conserves natural resources
Better driving economy may be obtained by thinking ahead, avoiding rapid starts and stops and adjusting the speed of your vehicle to immediate traffic conditions. Observe the following rules: B ...