Interior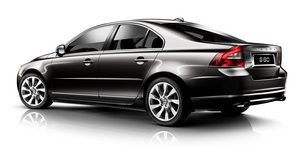 Volvo's largest sedan is categorized as a midsize passenger car, but its spacious interior makes some other luxury sedans look small by comparison. Even with a sunroof, headroom is ample for tall passengers. Rear-seat occupants enjoy generous legroom and foot space. Large side windows provide excellent views. Leather seating surfaces, power front seats and dual-zone electronic climate control are standard.
Even though the trunk lid opens more than 90 degrees, the opening isn't particularly large. Still, the cargo floor is long, wide and flat. Trunks hold 14.4 cubic feet of cargo. Split rear seatbacks fold flat without the need to remove the head restraints. Each rear head restraint folds down with the push of a dashboard button. A navigation system with a pop-up video screen is available.
See also:
Introduction
Your vehicle is equipped with tires according to the vehicle's tire information placard on the B-pillar (the structural member at the side of the vehicle, at the rear of the driver's door opening) ...
Cold weather precautions
If you wish to check your vehicle before the approach of cold weather, the following advice is worth noting: Make sure that the engine coolant contains 50 percent antifreeze. Any other mixtur ...
Driver distraction
A driver has a responsibility to do everything possible to ensure his or her own safety and the safety of passengers in the vehicle and others sharing the roadway. Avoiding distractions is part of ...