Hoisting the vehicle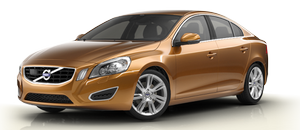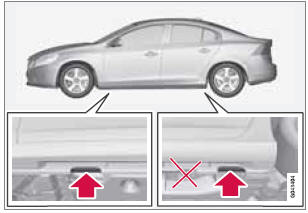 If a garage jack is used to lift the vehicle, the two jack attachments points should be used.
They are specially reinforced to bear the weight of the vehicle. A garage jack can also be placed under the front of the engine support frame. Take care not to damage the splash guard under the engine. Ensure that the jack is positioned so that the vehicle cannot slide off it. Always use axle stands or similar structures.
If a two-post hoist is used to lift the vehicle, the front and rear lift arm pads should be centered under the reinforced lift plates on the inboard edge of the sill rail (see illustration).
See also:
Keyless drive information messages
If all of the PCCs are removed from the vehicle while the engine is running or if the ignition is in mode II (see page 82) and all of the doors are closed, a message will appear in the instrumen ...
2009 Volvo S80 Review
The Volvo S80 was significantly redesigned for 2007, so it had been on the market only six months when the 2008 model arrived. The only significant change is a new engine option: a smooth and powe ...
Security
The Volvo C30's security systems were developed in association with the security experts at Thatcham. The C30 is fitted with a wide range of features designed to protect against burglary, theft or a ...