Hoisting the vehicle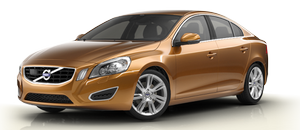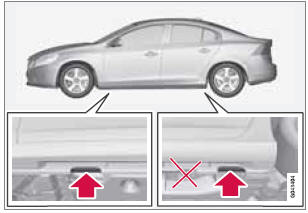 If a garage jack is used to lift the vehicle, the two jack attachments points should be used.
They are specially reinforced to bear the weight of the vehicle. A garage jack can also be placed under the front of the engine support frame. Take care not to damage the splash guard under the engine. Ensure that the jack is positioned so that the vehicle cannot slide off it. Always use axle stands or similar structures.
If a two-post hoist is used to lift the vehicle, the front and rear lift arm pads should be centered under the reinforced lift plates on the inboard edge of the sill rail (see illustration).
See also:
Electric parking brake
An electric parking brake has the same function as a manual parking brake. NOTE Х A faint sound from the parking brake's electric motor can be heard when the parking brake is being applied. Th ...
Speed-dependent steering force*
Steering force increases with the speed of the vehicle to give the driver enhanced sensitivity. At low speed the vehicle is easy to steer in order to facilitate parking, etc. Steering force can b ...
The laser sensor
The upper decal describes the laser beam's classification and contains the following text: Invisible Laser radiation Ц Do not view directly with optical instruments (magnifiers) Ц Class 1M ...