Incoming calls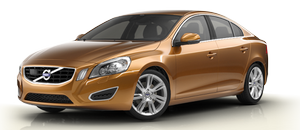 Press OK/MENU (or the thumb wheel on the steering wheel keypad) to answer a call, even if the infotainment system is currently in another mode (e.g., RADIO or MEDIA).
Press EXIT to reject a call.
See also:
CHECK ENGINE Malfunction indicatorlight
On-Board Diagnostics II (OBDII): As you drive, a computer called "OBDII" monitors your vehicle's engine, transmission, electrical and emission systems. The CHECK ENGINE light will light ...
Unleaded fuel
Each Volvo has a three-way catalytic converter and must use only unleaded gasoline. U.S. and Canadian regulations require that pumps delivering unleaded gasoline be labeled "UNLEADED". O ...
Calibration
The compass may need to be calibrated if, for example, the vehicle is driven into a new magnetic zone. The character C is shown in the mirror's display if calibration is necessary. 1. Stop th ...