Introduction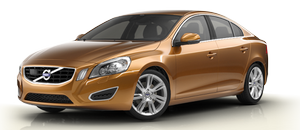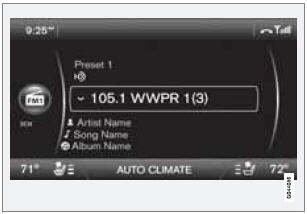 Display when the radio is receiving an HD Radio broadcast

NOTE
HD radio volume may fade in and out at times due to coverage limitations.
HD radio is a brand name registered by the Ibiquity digital corporation1. They are the developer of a broadcasting technology called IBOC or In Band On Channel, which refers to the method of transmitting a digital radio broadcast signal centered on the same frequency as the AM or FM station's present frequency.
The IBOC system is referred to as a "hybrid" since it is both analogue and digital. During hybrid operation, receivers still continue to receive the analogue (non-digital) signal. HD radio receivers incorporate both modes of reception, where the receiver will automatically switch to the analogue signal if the digital signal cannot be decoded or is lost by the receiver. When you have tuned to an HD Radio station, the

symbol will appear in the audio system display. The symbol is "grayed-out" when HD Radio is in standby mode and white when the radio is actively receiving an HD broadcast.
More information about HD radio and IBOC can be found on Ibiquity's website, www.hdradio.com and www.ibiquity.com.
See also:
Warning/information symbol in center ofthe instrument panel
This symbol shines as a red or yellow light depending on the nature of the information displayed. Red symbol – Stop the vehicle as soon as possible in a suitable location and read the message ...
USB
USB connector in glove compartment If you connect an iPod , MP3 player or a USB flash drive to the optional USB connector, this device can be controlled using the vehicle's audio controls ...
2012 Volvo XC70 Review
The Volvo XC70 is the quintessential station wagon, the most "Volvo-like" Volvo on the road today. Having one parked in my driveway takes me back to my childhood — riding to and from ...