12-volt sockets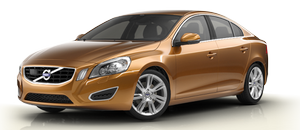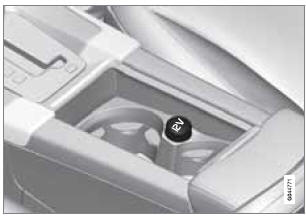 12-volt socket in the front tunnel console
The electrical sockets can be used for 12-volt accessories such as cell phone chargers and coolers. For the socket to supply current, the ignition must be in at least mode I, see page 86.
The maximum current consumption is 10A (120W) if only one of the 12-volt sockets in the passenger compartment is in use. If both the front and rear sockets are used at the same time, the maximum current consumption per socket is 7.5A (90W).
The auxiliary sockets can also be used to power a cigarette lighter. Accessory cigarette lighters and ashtrays can be purchased from your Volvo retailer.

WARNING
Always keep the sockets covered when not in use.
See also:
Occupant safety
Safety is Volvo's cornerstone. Our concern dates back to 1927 when the first Volvo rolled off the production line. Three-point seat belts (a Volvo invention), safety cages, and energyabsorbing ...
Exterior
Thanks to its redesign, the S60 is not the boxy Volvo from days of old. Sure, it's a midsize sedan produced by the brand that built its name on safety, but the S60's exterior looks verge on sexy. ...
Detachable trailer hitch (accessory)
A - Ball holder B - Locking bolt C - Cotter pin D - Hitch assembly E - Safety wire attachment Installing the ball holder 1. If necessary, remove the cotter pin from the locking bolt and slid ...