Summary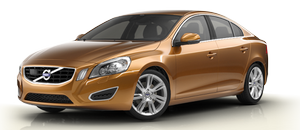 The camera is activated when the gear selector is moved to R (this can be changed in the MY CAR menu) and the image is shown on the center console display.
When backing up, two solid lines are projected on the screen to show the path that the vehicle's rear wheels will take. These lines are affected by movements of the steering wheel. The vehicle's approximate outer dimension are shown by two dashed lines.
The graphic lines will not be displayed when backing up with a trailer that is connected to the vehicle's electrical system.
Objects on the ground that are closer than 1 ft (30 centimeters) cannot be detected by the camera.
The camera is active for approx. 5 seconds after the gear selector is moved to R or until the vehicle's speed exceeds 6 mph (10 km/h).
The optional Park Assist sensors and the parking camera work together and information from the sensors is shown graphically on the display.
The graphic lines shown on the screen when the vehicle backs up can be disabled in the settings menu.
Manual zoom can be selected in the MY CAR menu.
The system can be switched off by pressing CAM. By default, the system is activated when the gear selector is moved to R. This setting can be changed in the in MY CAR menu.
If there are two cameras installed on the vehicle*, to switch between cameras, turn TUNE (at least one of the cameras has to be active), press CAM repeatedly or use the center console controls. If the front camera is on, it overrides the optional park assist system's visual indicator but there will still be an audible signal.
See also:
Refrigerator
The refrigerator is located under the cover in the front seat center armrest. Use the button (see the inset illustration) to adjust the level of cooling. The refrigerator functions when the en ...
Label information
1 Model plate: includes e.g., Vehicle Identification Number (VIN), codes for color and upholstery, etc. The model plate is located on the rear side of the B-pillar (the pillar between the front ...
Introduction
Volvo recommends the use of Volvo trailer hitches that are specially designed for the vehicle. NOTE See page 353 for the maximum trailer and tongue weights recommended by Volvo. • Observe the l ...